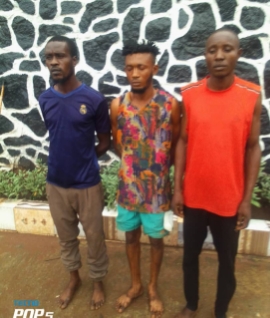 Community
Police arrest three suspected cultists in Sango-Ota
CITIZENS COMPASS —THE Ogun State Police Command has apprehended three suspected cultists belonging to the Eiye Confraternity. 
Acting on credible information provided by an anonymous citizen, the Divisional Police Officer of Sango Ota, CSP Saleh Dahiru, led his anti-robbery team to School 3 in Joju, Sango Ota, where the suspects, Dakwo Micheal Jackson 'm', Joel Obieva 'm', and Oluwaseun Bamideke'm', were caught planning their illegal activities.
During questioning, the arrested individuals confessed they were part of a larger gang of Eiye confraternity, comprising five members, with their leader still at large. Their intention was to meet at the school before carrying out their planned operation. However, thanks to the swift action of the Sango Division police, they were apprehended before they could execute their nefarious plans.
Spokesperson of the Command, Omolola Odutola in her updates on Tuesday, September 5, 2023, said, "police are currently making efforts to track down the remaining suspects who managed to escape arrest. Once the investigation conducted by the State Criminal Investigation Department is completed, the suspects in custody will be charged and brought before the court to face justice."