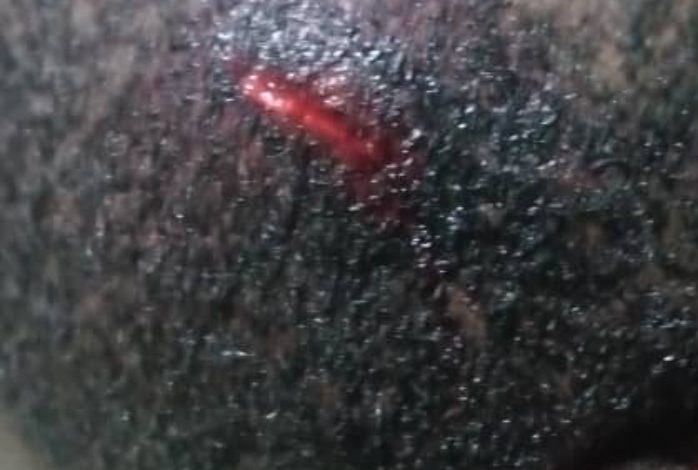 THE crisis in the National Association of Nigerian Students (NAS), was deepened during the week as one of the factions was allegedly attacked during a meeting in Osun State.
The incident which occured at an oen bar, in Osogbo, on Wednesday was said to be riddled with gunshots when a factional leader AbdulMajeed Oyeniyi was holding a meeting with some stakeholders.
Unknown to them, some yet to be identified persons started macheting and shooting at them.
Time was 7pm, at Emasculate Open Bar, Ogo-Oluwa, Osogbo, Osun State.
Although, no life was lost but Oyeniyi and others sustained carrying degrees of injuries.
They were thereafter rushed to the hospital for medical attention while the matter has since been incidented at the nearest Police station.
This was later confirmed by Citizens Compass.
The Special Adviser on Media to Oyeniyi, Adekanmi Solomon Olalekan, narrated the incident.
In a statement titled, "MURDER ATTEMPT ON THE LIFE OF COMR. ABDULMAJEED OYENIYI AND FOUR OTHERS," he said"
At about 7:00hrs of 14-07-2021, a murderous gang numbering about 25 persons invaded an open bar where the National President of NANS AbdulMajeed Oyeniyi was holding a meeting with some of the respected stakeholders in the student movement in Osun State. At the meeting with him were four other comrades.
Prior to the attack, members of the entourage of the National President had noticed the presence of a NANS bus, donated on the 12th July, 2021 to Asefon Sunday by the government of Ekiti State parading the streets of Oshogbo. The information available to the team had indicated that the Governor of Ekiti State, Dr. Kayode Fayemi had facilitated the release of the bus with financial support to get rid of Com. AbdulMajeed and core supporters of the administration he was inaugurated to lead. The team took it with levity believing that as an activist of repute, the Ekiti state governor would not encourage violence within the student movement. Alas, it became a reality that he had indeed provided funds and resources to annihilate and murder the National President through his sponsored agent (Asefon Sunday Dayo) in a bid to silencing apolitical students for his crashing 2023 Presidential agenda.
"Upon arrival at the Emasculate Open bar, Ogo-Oluwa, Osogbo, where the National President was holding his meeting, the assailants who came with a mix of dreaded cultists and abattoir thugs descended on him and others, inflicting bodily injuries including a deep matchet cut personally inflicted on his head by Asefon Sunday Dayo, the Ekiti State Governor imposed factional NANS President. They also made away with his phones and those of two others. Already, one of the assailants promoters had owned up to knowing all that transpired and alluded to the fact that the murderous gang stole phones and other valuables of their targets.
"In a pool of blood and amidst gun shots fired sporadically by the assailants, the National President was rescued by people of good mind and immediately rushed to the Oakland Medical Centre, Osogbo for treatment alongside others. The matter was also promptly reported at the Police station for notice and investigation.
"As a citizen of Nigeria from Inisa, Osun State, that someone would have the effrontery from Ekiti State in a government donated bus, packed with cultists and thugs, armed with guns and other dangerous weapons to assassinate others begged for imagination. It is indeed very shameful that Mr. Asefon Sunday Dayo can stoop so low and come to Osogbo, Osun State to attack law abiding citizens of Nigeria.
"It is now clear why the Ekiti State Governor, Dr. John Kayode Fayemi gave him a new bus recently to ease his murderous evil movement.
We are not unaware that the assignment given to Comrade Sunday Asefon Dayo by his paymaster (Dr. John Kayode Fayemi) is to eliminate whosoever that may be an obstacle to his unpopular 2023 Presidential ambition and knowing full well that Comr. Abdulmajeed O. Oyeniyi will never use the interest of the entire Students to project the Presidential ambition of Governor Kayode Fayemi, Mr. Asefon was thus assigned to kill AbdulMajeed Oyeniyi, a plan that will never be achievable.
"The most irritating part of these was that, the SSA on Student to the Governor of Osun State, Kehinde Alasalatu was the one facilitating the movement of Mr. Asefon since his arrival into Osun State against Osun State students whom he was appointed to oversee.
"The Department of State Security, Osun State Command has also been notified while our lawyers have taken proper briefs with required evidences to initiate legal proceedings against the assailants and their sponsors.
"It is on this note that we call on the entire Nigerian Students and all security operatives to be aware of the murderous attempt on the life of the National President of NANS, Comr. Abdulmajeed Oyeniyi by Mr. Asefon Sunday Dayo and his murderous gang at Osogbo yesterday.
"As a respecter of law, and an intellectually mobile defender of students' rights and welfare, the National President uses this medium to appeal to Nigerian students to remain calm in the face of these provocations as he believes that the law will take its due course soonest.
"Should anything happen to Comrade Abdulmajeed O. Oyeniyi, his followers, admirers, associates or any of his family members, Mr. Asefon Sunday Dayo will be held responsible."
However, Asefon Sunday described the allegation as baseless and urged Oyeniyi to come forward with evidences. He said, "the election that produces Oyeniyi was fraudulent and was organised because I suspended a protest which could have thrown the nation into coma. It was earlier scheduled for June 12, 2021 but when I noticed that some politicians wanted to hijack it for selfish reasons, I had to suspend it.
"I have petitioned the Inspector General of Police, the Department of Security Service (DSS) and Osun State Commissioner of Police over the fraudulent election.
"Back to Oyeniyi's attack, I was not in Osun on the said date because I had met with the leadership of NANS in Osun State previously.
"Nigeria students don't recognize him as their leader and he may have been attacked because he was trying to impose himself on them.
"I expected him to be studying because his school has started examination's but investigations revealed that he is not a student of the school.
"The elections that produced me was keenly contested and all the 36 states and FCT were represented but the reverse is the case with Oyeniyi.
"The DSS has called me about his attack and I have told them I knew nothing about it.
"Six months into my tenure, it sounds funny that he was attacked in his own state which implies that he was not recognized in his state."
At press time, the Spokesperson, Osun State Police Command Opalola Yemidi could not be reached for comments.