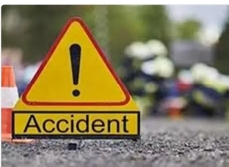 Crime
Driver allegedly kills 60 years old man in Ikorodu 
CITIZENS COMPASS —A 24 years old driver has knocked down a pedestrian leading to a fatal accident at Ilara, along Agbowa Road via Ogijo, Ikorodu area of Ogun State. 
According to spokesperson, Ogun State Police Command, Omolola Odutola, in a statement, the incident occurred on August 24, 2023, at about 3.50p. m.
It involved a Lexus ES 350 car with number plate, KJA 363 JB Lagos, driven by one Quzeem Olaniyan "m" aged 24 years. 
The spokesperson gave the pedestrian's name as David Rotimi "m" aged 60yrs.
"According to eyewitness accounts, the fatal accident occurred when the driver, who was traveling outward Ogijo – inward Agbowa, lost control of his vehicle on the intersecting road and knocked down the sixty-year-old pedestrian who was walking by the shoulder of the road. 
"The impact on the pedestrian was fatal, he was rushed to MainFrame Hospital in Ogijo and later referred to General Hospital in Ikorodu Lagos, where the Doctor on duty certified him dead. 
" The corpse has been evacuated to Jas Private Mogue at Ita Oluwole Ogijo for preservation, while efforts are underway to reach his family members. 
" The vehicle has been recovered to the Ogijo Police Station for VIO inspection. 
"Taking a review of previous weeks, cases of accidents of different natures topped the chart. The Motorpol and Traffic Section of the Ogun State Police Command is sending out a caution to motorists, motorcyclists, cyclists, and pedestrians to exercise measures of patience, reduce over speeding, and comply with other traffic rules for safer roads in the State. "