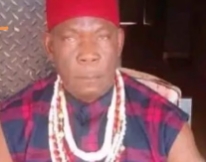 Security
DSS grills Eze Igbo for threatening to invite IPOB to Lagos
CITIZENS COMPASS – THE Department of State Services (DSS) is currently grilling the Eze Igbo of Ajao Estate in Lagos, Fredrick Nwajagu, for allegedly threatening to invite members of the  Indigenous People of Biafra (IPOB) to secure some markers dominated by Igbos in Lagos.
The Eze Igbo was arrested in the early hours of Saturday, April 1, 2023, in a joint operation by the DSS and the Nigeria Police Force.
It was learnt that the joint operatives traced him to his Ejigbo residence where he escaped arrest but was traced to a hotel and was picked up.
Citizens Compass gathered that he had been handed over to DSS for investigation..
Spokesperson, Lagos State Police Command, Benjamin Hindeyin confirmed the arrest on his verified Twitter handle over the weekend.
Hindeyin said the command would resist IPOB presence in the state.
"To start with, the ever-ready @LagosPoliceNG will never fold its arms and allow such within the state."
Nwajagu, in a 49-second video, which has now gone viral in Twitter, had allegedly threatened to invite IPOB members to Lagos to protect some Igbo people and their properties in the state.
The Igbo leader said he stood by his words, insisting that his people must have a stand in Lagos.
He said, "IPOB, we will invite them. They have no job. All of the IPOB will protect all of our shops. And we have to pay them. We have to mobilise for that. We have to do that. We must have our own security so that they will stop attacking us in the midnight, in the morning, in the afternoon.
"When they discover that we have our own security, before they will come, they will know that we have our own men there. I am not saying a single word to be hidden. I am not hiding my words, let my words go viral. Igbo must get their right and get stand in Lagos State."