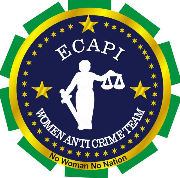 CITIZENS COMPASS: SAMUEL Eniola, President/Founder, Eagle Crime Awareness Prevention Initiative (ECAPI), has proffered solution to the endless killings of innocent Nigerians by some trigger happy policemen in Nigeria.
Recall that within a space of three weeks, two extra judicial killings occurred by policemen attached to Ajiwe Police Station in Ajah area of Lagos State.
One of the victims was Gafaru Buraimoh and the most recent one was that of a female lawyer, Bolanle Raheem who was allegedly shot dead on Christmas Day.
The Assistant Superintendent of Police (ASP), identified as Drambi Vandi, which pulled the trigger that allegedly killed Bolanle has since been remanded in prison over the incident.
Samuel in his social media posts on Tuesday, January 3, 2023, titled, "Gun Control & Capital Punishment
(The killings must stop in Nigeria now….), said, "I want to appreciate the many contributions from ECAPI Detectives as well as all our highly respected Security Officers for your comments and inputs in respect of the Gun Control (Stage One) which l posted on this platform on how to control illegal firearms and light weapons in our communities and our country at large.
"To add to all the various submissions, l want to say humbly that l believe that the first step is Creating Awareness and Public Enlightenment about the hazards, misuse and/or disadvantages of illegal firearms.
"Then, the second step is to request for voluntary submission of illegal firearms* without State prosecution.
"The third step then becomes the *arrest and prosecution of violators.
"For sake of clarity, looking at the first step, the Law Enforcement Agencies can engage ECAPI, as a known Crime Awareness and Prevention Outfit, to make Public Awareness & Enlightenment Campaigns on Radios, TV Stations, Newspapers, Churches, Mosques, Schools, Motor Parks, Market places both in Rural Areas and Urban Centers etc.
"The second and very important step is to request for *voluntary submission of illegal weapons without any form of arrest by the Law Enforcement Agencies with designated Collection Centers in major Communities around the country and to be strictly supervised by Senior Law Enforcement Officials from different Agencies including ECAPI Undercover Detectives.
"Third step is:
Arrest and prosecution of errants* who fail to comply with the directives through capital punishment because there will be no further justification for keeping the weapons.
"After we are done with these 3 steps, then it is recommended that all the Law Enforcement Agencies will now begin massive advocacy for "Operation Keep AK47 Off The Roads" while our Police Operatives and other Law Enforcement Officers will be armed with pistols, rubber bullets and other light weapons to curb crimes.
"However, where there established cases of armed offences, then Special Combatant Forces can be deployed to quell such incidences.
"Law Enforcement Agencies should engage and synergize more with Skilled Security NGOs like ECAPI and other key stakeholders to assist in the area of intelligent gathering and community policing.
"Let's emulate the international policing standards without the usage of war gadgets like the "AK47″on our roads and around our civilian populace in Nigeria so we could do away with countless and needless deaths in this country.'