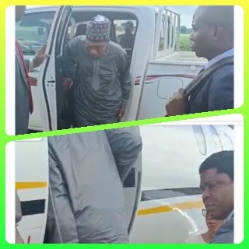 Business
Emefiele:Court issues new directives to DSS 
.. no access to my client - Lawyer 
CITIZENS COMPASS – A High Court sitting in the Federal Capital Territory (FCT) has ordered the Director-General of the Department of State Services (DSS) Yusuf Bichi, to grant the suspended Governor of the Central Bank of Nigeria (CBN) Godwin Emefiele, access to his lawyers and family.
Emefiele was arrested by the DSS on Saturday, June 10, 2023 hours after his suspension by President Bola Tinubu.
Justice Hamza Muazu of the FCT high court made the order on Friday even as he emphasised that access is a constitutional right of Emefiele.
The enrolled order dated June 16, 2023, reads: "The lawyers of the applicant shall have access to the applicant immediately. And regularly at a reasonable time, pending the determination of the application."
The court order followed an application filed by Emefiele's counsel, J.B. Saudi SAN, who told the court that the DSS had failed to respond to previous letters requesting access to his client.
Counsel to the second and third respondents, I. Awo Esq asserted that the DSS has not been known to reject such requests in the past and that the denial of access was inappropriate.
However, Awo was certain that the security service would abide by the court order and allow the listed lawyers and family members to visit Emefiele.
The office of the Attorney-General of the Federation did not oppose the application.
Meanwhile, both the counsels to the DSS and the office of the Attorney-General of the Federation requested an extension of time from the court to file their responses to the Originating Motion filed by Emefiele.
The court granted the request and further adjourned the suit to Tuesday, June 19, 2023, for a hearing in the substantive suit.
–The PUNCH