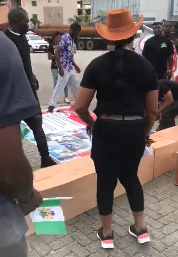 CITIZENS COMPASS– HUNDREDS of EndSARS Protesters have carried coffins to the Lekki Tollgate in commemoration of the 2nd anniversary of EndSARS Protests which took place in October 2022.
They were led by the Convener of Revolution Now, Omowole Sowore, the leader of Takeitback Movement, Ayoyinka Oni, and other celebrities who converged on the Tollgate in a procession.
This resulted in traffic gridlock in the axis..
Men of Lagos State Police Command who were also on ground thereafter dispersed the procession with canisters at about 11am.
The Police also arrested some of tbe protesters after firing the canisters.
Before the canisters were fired, the procession was ongoing with fliers, Nigeria flags, coffins with the protesters  shouting ''we want justice''.
Why we carried coffins
Some of the protesters said the coffins were symbolic to rid evil and appease the spirits of the innocent Nigerians who were massacred at the tollgate  two years ago.
However, the Youth Rights Campaign YRC, has condemned in earnest, the firing of teargas on the harmless protesters.
The group said that the action portends that Police brutality is still the order of the day in Nigeria.
In a statement jointly signed by Michael Lenin, National Coordinator and Francis Nwapa, National Secretary on Thursday, they called on government to heed to the yearnings of the masses rather than high handedness. 'today's event whereby 'activists rallying at Lekki tollgate in honor of #EndSARS martyrs were attacked, fired at with teargas, and arrested by the police shows that police brutality persists despite public outcry two years ago.
Why we tear gas protesters – Police
The Lagos State Police Command has explained reasons why its officials tear-gassed and arrested protesters at the #EndSARS memorial procession at the Lekki Toll Gate plaza.
Spokesperson, Lagos State Police Command, Benjamin Hundey, while fielding questions on Channels TV on Thursday, said the police tear-gassed and arrested some 'trouble makers,' who wanted to breech the peace of the state.
According to Hundeyin, the procession had stopped and traffic was building at the toll-gate.
He stated that the police had to fire tear gas to disperse the crowd in order to relieve traffic at the spot.
He said, "Everything was going fine until they stopped and started laying the coffins on the ground and all. They were doing all these and traffic at the toll gate was building.
"We needed to ensure that there was free flow of traffic in the area, because the agreement was that the procession would not stop, that was why we fired tear gas. After the crowd was dispersed, no single canister of tear gas was fired again.