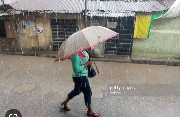 CITIZENS COMPASS– Some parts of Lagos metropolis on Sunday recorded the first rainfall in the year  2023.
The rain fell around Lawanson in Surulere, Apapa Road, Costain and Oyingbo areas of Lagos.
The morning rain, which did not last more than 30 minutes, varied in intensity in the different areas mentioned.
NAN observed that the rain only drizzled around Ijegun, along the Jakande/Isolo area of Lagos.
However, the drizzle was enough to reduce the dust on the road.
Some residents of these areas who spoke to NAN  expressed delight but urged that measures be put in place by the government and residents to prevent floods.
They also hoped the coming of the rain will help to ease the heat experienced at night as well as make for improved yields in the year's agricultural season.
A Civil Servant, Mrs Joy Obinnu, told NAN that the rain, which started about 10:00 a.m, fell for 20 minutes consistently in Lawanson
Obinnu said that young boys were seen playing football under the rain in excitement.
She expressed the hope that the rain would reduce the prevailing heat being experienced in the neighborhood and usher cool nights.
Some other residents of  Lagos state wished that the rain could fall more than it did on Sunday to reduce the heat being experienced, which according to them, have been made worse by epileptic power supply and fuel scarcity.
Mr Akin Obasa, an Agriculturist, said the rain should be a reminder for farmers to start preparing for the farming season.
He, however, said they should still wait a while for the rain to be a bit more consistent before they start cultivating.
"Farmers should not rush to the farm to start planting but they can start making preparations  for the new planting season."
Mr David Ola, a Geography Teacher, urged the government to prepare for the rainy season so as not to be caught unawares when a heavy rain comes.
According to him, the Ministry of Environment, Ministry of Works and all other relevant agencies should ensure that canals, gutters, drainage channels and roads are cleared of waste and silt.
Ola also cautioned residents against removing silt from gutters and leaving them on the roadsides only for rains or water to wash them back into where they were evacuated from.
Dr Linda Ibe advised residents to observe precautionary measures to avert ailments usually associated with the rainy season.
According to her, the ailments include cold, malaria, typhoid fever, diarrhoea, cholera, Hepatitis A and conjunctivitis ·
–NAN