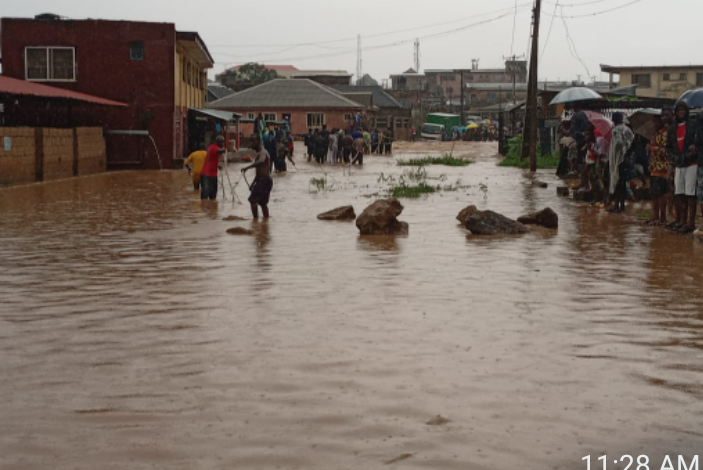 CITIZENS COMPASS– THE Nigeria Meteorological Agency (NIMET) has said that 2023 rains may come earlier than expected in some parts of the country.
NIMET said the country may experience flood earlier than expected..
This was contained in the 2023 Seasonal Rainfall Prediction (SRP) released by the agency on Tuesday, January 24, 2023.
The prediction revealed that the earliest onset will likely occur on or around March 2 in the coastal zone of the south-south states of Bayelsa, Rivers and Akwa Ibom, while onset of rainfall in the inland cities of the south will likely be in April. Onset of rainfall in the central states is likely to be in May.
The agency also predicted that Kastina, Zamfara, Kano, Jigawa, Yobe, Cross River, Ebonyi, Imo, Rivers will likely experience delayed onset of rainfall while onset in parts of Adamawa, Bauchi, Gombe, Kwara Gombe, Kwara, Oyo, Ogun and Lagos will be near normal.
The extreme northern states of Sokoto, Kebbi, Zamfara, Kano, Kastina, Jigawa, Yobe and Borno according to NIMET would have their own onset between June and July.
NIMET's Director General, Prof. Mansur Matazu, while speaking at the SRP presentation in Abuja, explained that the forecast would be a bit normal, compared to 2022, but with pockets of extreme weather events in some states.
He announced that peak rainfall would be between July and September, noting that due to high soil moisture, there would be flash floods in cities, while people living in flood-prone areas would experience a riverine flood.
He said following the devastating flood in 2022, President Muhammadu Buhari gave marching orders to ensure improvement in early warning service. He said this was why the SCP was released in January.
He predicted that there might be floods, as witnessed in 2022.
He said, "With the increase in climate change activities, there will be more floods. Climate change is due to increasing temperature and increased temperature means the atmosphere will be pregnant and contain more water in the form of vapour.
"This means more rain and the rain will come in high intensity within a short duration. This gives more volume of water within a limited time. This is what triggers floods after rainfall in cities and riverine areas, especially during July-September."