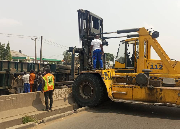 CITIZENS COMPASS- ROAD users in Ojota, Ikorodu Road, Lagos State experienced a mother of traffic jam when an articulated truck fell on the road
This occurred at day time on Tuesday, February 14, 2023.
Relieve later came the way of road users as emergency responders moved to the scene.
This was confirmed by the Permanent Secretary, Lagos State Emergency Agency (LASEMA), Dr Oluwafemi Oke- Osanyintolu in a statement which partly reads, "On arrival at the incident scene, it was discovered that a Truck with registration number ABJ 921XE, laden with 2 (20 fts) containers fell on its side thereby obstructing a part of the carriageway.
"Investigation conducted by the LRT revealed that the driver while trying to
navigate through the bend
lost control of the wheels. The vehicle subsequently fell on its side and detached from the head.
"No loss of life nor injury recorded.
"The Agency LRT and LASTMA officials worked to ensure Road traffic control until the arrival of the Agency's Heavy-duty equipment to remove the obstruction.
"This has been concluded and traffic flow restored. "