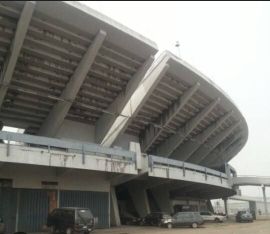 Sports
FG orders closure of National Stadium, Surulere 
CITIZENS COMPASS – THE Federal Government of Nigeria has announced the temporary closure of National Stadium, Surulere in Lagos State. 
Minister of Youths and Sports Development, Sunday Dare, made the announcement about the temporary closure, on Saturday, April 22, 2023.
He said this is due to the collapse of a floodlight mast.
Dare disclosed this in a statement after inspecting the collapsed floodlight mast.
The Minister had paid a scheduled visit to the stadium on Friday, April 21, 2023, promising to make his stand known after due assessment.
After the tour around the stadium, the minister ordered the closure of the stadium to avert any unforeseen circumstances.
"Thank God there was no casualty. I also inspected the three other light masts and the effects of age and weather elements were visible, clearly, they are also a suspect after 51 years.
"Based on my assessment, advice of experts and in the interest of public safety, there will be a temporary closure of the stadium and surrounding facilities; proper assessment and necessary action will be taken soon."