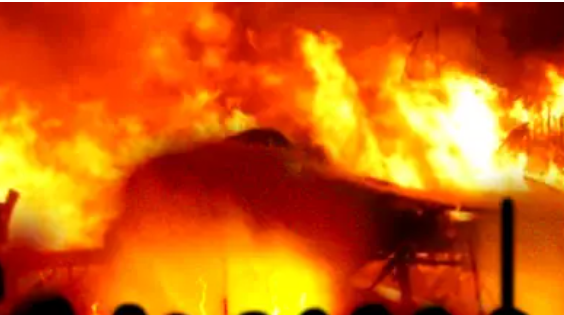 CITIZENS COMPASS– NO fewer than 11 rooms were engulfed by fire Fire within the premises of Lagos airport hotel, Obafemi Awolowo Way, Ikeja area.
The inferno was recorded on Monday, March 20, 2023.
Citizens Compass reports that the inferno which was recorded at about 12.50pm, involved a bungalow building of 11 rooms which was met well alight by emergency responders.
No life was lost to the incident but the rooms were reduced to ashes.
Confirming the Monday incident, the Director, Lagos State Fire and Rescue Service, Adeseye Margaret said, "The Fire outbreak which occurred at 12:50 hours, Monday at the famous Airport Hotel on Obafemi Awolowo Way, Ikeja has been doused by the Lagos State Fire and Rescue Service.
It involved a bungalow building of 11 rooms which were met raging and stopped from causing further damage beyond the affected six rooms while saving adjoining structures and the veteran hotel.
"While the cause of the Fire is been investigated, there was however no record of casualty in the unfortunate incident."
The incident occurred in less than a week that some residents at 2,- 4 Mobolaji Johnson Avenue, off Glover Road Road, Ikoyi area of Lagos trooped out to scoop fuel when fuel- laden truck spilled its content in the area on Wednesday, March 15.
The content was said to have spread into the drainages and canals where residents ignored impending danger to scoop the product.
It will be recalled that Akere auto spare parts market, Kirikiri Road, Akere Bus Stop, Olodi-Apapa, Ajegunle, Lagos, went up in flames on Wednesday, March 8, 2023 which rendered many traders homeless when scores of shops were razed on that day.
Eye witnesses' accounts attributed the inferno to arson which occurred at about 3a.m.
The Akere fire outbreak recorded loss of life while Lagos State Governor, Babajide Sanwo-Olu and Labour Party Gubernatorial candudate, Gbadebo Rhides-Vivour have visited the place.
On that day, Adeseye said, "At about 03:28 Wednesday wee hours, a Fire outbreak was alerted to Akere Spare Parts Market, Kirikiri Road, Akere Bus Stop, Olodi-Apapa, Ajegunle, Lagos that saw the Ajegunle Fire Station of the Lagos State Fire and Rescue Service as first respondent.
"Upon arrival, it was discovered that rows of shops that traded in auto spare parts was well alight that led to Sari-Iganmu and Ilupeju Fire Crews of the Agency joining up to subdued the raging Fire and salvage a nearby major market Petroleum Filling Station with a fully loaded 33,000 liters PMS tanker amongst other adjoining buildings.
"However, a male adult was recovered by the Tolu Police Division of the Nigerian Police around the scene while the Lagos Neighborhood and Safety Corps and the Red Cross were also in attendance.
"The cause of the Fire will required details investigation to ascertained as well as post incident enumeration to account for the number of lockup shops and wares lost.'