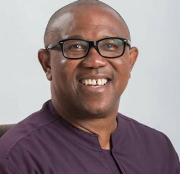 Politics
Nigerians react to purported plan to arrest Peter Obi
CITIZENS COMPASS– NIGERIANS especially social media users have been reacting to an Instagram post by a Nolywood actor, Kanayo O. Kanayo claiming that Labour Party (LP) presidential candidate, Peter Obi will soon be arrested.
He said this was part of the ongoing political drama in Nigeria.
The believe that Peter Obi would be attested follows conspiracy theories as per his role in dislocating the political permutations.
He was perceived to have gingered many youths who were disenfranchised during the 2023 general elections.
Some of the social media reactions are;
Santa!. Ọmọ́táyọ̀ Babańlá @FrancisTayyoy
If they arrest him there's nothing anyone can do about it except ranting online. Everyone will just look on and the man will be forgotten in prison just like u guys forgot nnamdi Kanu
oyeka @oyeka10
Go try am na make you see nigerian divide in 48 hours
Saeed @Saeed69078569
Lamba lamba guys sha! Wetin be the electoral value of obi for anyone to waste time over him!
Victor Mark @markcefiro147
We dare APC to try it. That's the point that everyone will understand the quietness of a leopard is nothing but calculated accuracy.
Governor @ReliableGov
Arrested for what crime ? He has peacefully gone to court to reclaim his stolen mandate. He openly rejected violence and called for calm. Unlike buhari that usually caused chaos anytime he looses election. @OfficialDSSNG is yet to arrest MC Oluomo & those causing crisis in 🇳🇬.
omo ope @GleebLax
For the record everybody should never take this post serious,this person is just looking for engagement nothing more. Maybe many of y'all don't really know who Obi is & the kind of connections he has around the world,no government in Nigeria has the power to arrest Obi.
Прокат @uti_no_mas
They have wasted too much time already. Peter Obi will never directly ask people to protest but they can help him do it by arresting him please.
Good governance, a MUST @MasterPeeZ
It's obvious already. But has Jehovah God ever failed. Bayo Onanuga, Mohammadu Buhari's appointee – nominated by Tinubu, made a remark to incite violence against the Igbos. He is yet to be arrested by the powers that be. APC has been pushing us LP to the wall for a reason.
Same_Ola@Claimaxx
😂😂
Someone that has been the only reason why people are not in the street protesting . You want to arrest him. The protest might last a whole year
Nice&Kind 🇵🇹🇹🇿 @ChuksMulti_P
Lol. They won't even try this nonsense. Endsars sef won't come close to what will happen.
Oroma💙 @Omatune
They wanted to arrest Peter Obi immediately after the election, thinking that OBIdients will protest and take over the streets, accusing him of instigating the protest and get him locked up. Peter Obi is a wise man.
Felix Igwe-phillips @phylixigwe
Except there is another place, people will run to.