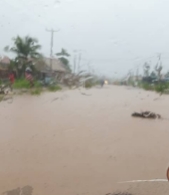 CITIZENS COMPASS – Perrenial flood on Tuesday, sacked some parts of Igbogbo/Baiyeku Road in Ikorodu Division, Lagos State following a downpour that lasted for hours.
Many commuters took to trekking as many commercial drivers abandoned the road during the downpour. 
It was learnt that few transporters that plied the route forced passengers to pay through their nose as fares from Baiyeku to Ikorodu was increased from N500 to N800 while Igbogbo to Macaulay was put at N600 instead of N300. 
Students were seen trekking the road as they could not afford the fares. 
Recall that Lagos State Public Works started construction of drainages from Odofin Road which is currently around Mobil area. 
The drainages are part of the road construction from Odofin Street to Prince Abiodun Ogunleye Housing Estate which is Phase 1 of the road construction which commenced in July 2023.
The road construction was State government's response to the yearnings of residents.