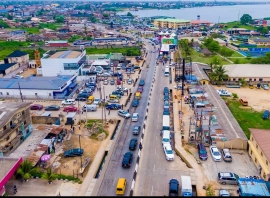 Community
Fourth Mainland Bridge coming soon- Sanwo-Olu
... Iinaugurates Ipakodo Road in Ikorodu
CITIZENS COMPASS – Lagos State Governor, Mr. Babajide Sanwo-Olu, on Friday, said that the ground breaking of the much awaited Fourth Mainland Bridge will take place few weeks after his second term administration kicks off.
He disclosed this on Friday, March 31, 2023, while inaugurating the 2.5 kilometres rehabilitated Oba Sekumade Road, Ipakodo, in Ikorodu Local Government Area (LGA) of the state.
The Governor also inaugurated the reconstructed TOS Benson Road, Ipakodo in the same council area.
Speaking during the inauguration, Sanwo-Olu said his administration was not about cheap politics, as it had been fulfilling the promises made to the residents of the state.
The governor further noted that Ikorodu had continued to remain a reference point in the state, saying that it had remained peaceful and accommodating to visitors.
He commended the residents for giving him a second term, by voting for him during the just- concluded Gubernatorial Election, promising that delivery of projects in his second term would be speedy and bigger in scope.
According to him, his second term will make records of iconic projects far better than the record of his first term in office, assuring that his administration, in the next four years, committed to ensuring accelerated development across the nook and cranny of the state.
Speaking further, Governor Sanwo-Olu said the state government would, in few weeks' time, perform the ground breaking ceremony of the Fourth Mainland Bridge, while completing ongoing projects, for the people to enjoy the dividends of democracy.
Special Adviser to the Governor on Works and Infrastructure, Mrs. Aramide Adeyoye, in her welcome address, said that public outcry and perennial flooding on the axis moved the present administration to take bold steps to award the project, after resolving all issues to ensure durable construction.
"This was after extensive engineering investigations and tests of the underlying soil by adopting a more expensive but more enduring option of a Continuously Reinforced Concrete Pavement (CRCP) for the reconstruction and upgrade of the road as against the option of an asphaltic flexible pavement that was not sustainable.
"It is worthwhile to mention that the goal of the project was also to resolve the perennial flooding issues around Ogolonto, Omologede, Ipakodo and environs," Adeyoye said.