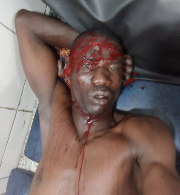 CITIZENS COMPASS– FOR refusal to tow his broken down vehicle at Brewery area of Lagos, a commercial driver is currently battling with his life as men of Lagos State Traffic Management Authority (LASTMA), in connivance with some Area Boys have allegedly stabbed him severally.
The incident occurred at about 4pm, on Wednesday, December 21, 2022.
The commercial driver, Jamiu Alao, a member of Joint Drivers Welfare Association of Nigeria (JODWAN), said he has been in and out of hospital since the incident occurred as he could not raise enough money to foot his medical bills.
Narrating how the incident occurred, Jamiu a resident of Magbon, Badagry area of Lagos State, said he carries out his daily activities at CMS enroute Orile in Lagos.
He said on that fateful day, there were 33 passengers in his coastal bus which took off in Apongbon enroute Orile when the bus suddenly stopped at Brewery under bridge.
"While I was trying to fathom out what could be the problem, the 33 passengers were impatient and they asked me to refund part of the fàres and I gave them N100 each.
"Few minutes later, some Area Boys approached and asked if they may be of help and I asked them to help me push the bus off the road while I get an auto technician to fix the problem.
"As the auto technician was inspecting the problem, men of LASTMA arrived with a towing vehicle and three Area Boys.
"One of the Area Boys stood aloof while two were armed with bottles as they positioned themselves. Before I could say jack, one of the officers jumped into the bus and instructed the driver of the towing vehicle to step into action but I disallowed them from towing the bus.
"One of the Area Boys told me I will regret my action if I did not allow the officials to tow the bus. Not. quite long, he hit the bottle on my head and his colleague broke another bottle, stabbed me severally until blood was gushing out. My conductor who could be of assistance was scared away from the scene.
"The conductor of another bus, Samson, sighted me from afar and rushed to the scene to find out what was happening but was stabbed by the Area Boys and he is currently under medical treatment.
"On noticing the gravity of what they have done, the officials ran away from the scene but sympathisers rallied round and we incidented the report with Iponri police station but the policemen advised me to go and treat myself first.
"A friend who got wind of the incident called LASTMA spokesperson and we were asked to report in LASTMA's headquarters at Oshodi but up till now, nothing has been done by LASTMA.
"I can neither go to work nor foot my medical bills due to pausity of funds. I am yet to regain my health.
"Samson is yet to regain his health too and we were left to our fate." said the driver.
In a chat with Citizens Compass, JODWAN President,
Akintade Abiodun frowned at incessant harassment of his members calling on relevant authorities to bail them out of the predicament.
He said despite that the harassment on Jamiu was channelled LASTMA headquarters, nothing cogent had been achieved.
LASTMA spokesperson, Adebayo Taofik  promised to send official reactions about the incident when he was contacted on phone.