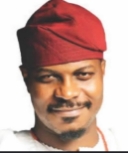 CITIZENS COMPASS – Labour Party's Governorship candidate in Lagos State,Gbadebo Rhodes Vivour has advised government on ways to handle brain drain that has grossly affected the health sector in the country. 
The governorship candidate gave the advice in one of his tweets on Thursday. May 11, 2023. 
In the tweet, he advised the government against outsourcing education and health care.
The Labour Party candidate said the government should not apply force in tackking braindrain challenges. 
According to the tweet, " Two things a government should not outsource are education & health care. Braindrain in health care delivery will not be solved using force or policy. Nigeria is not alone in this struggle. With our population and medic/citizen ratio, we must think out of the box."