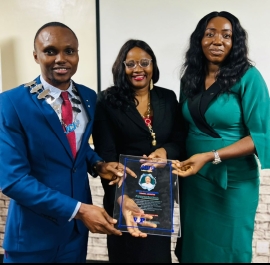 News
George-Igbafe, others task youths on digital space
.. as JCI marks International Youth Day
CITIZENS COMPASS – POPULAR Tech doctor and Founder, Learntor, Mrs Mercy George-Igbafe has charged Nigerian youths on the need to embrace the digital space in order to compete with their contemporaries in foreign countries.
George – Igbafe gave the charge on Sunday, August 13, 2023, at a Skills Development Training organised by the Junior Chamber International (JCI), Lekki Royale in Lekki Area of Lagos State.
Delivering the keynote address at the event which was held at the Swiss International Hotel, VGC Lekki – Lagos with notable digital experts in attendance, George-Igbafe opined that as the digital economy continues to expand, it opens the door for more opportunities to earn with the relevant digital competence.
She stated that the convergence of youth and technology is one that would produce endless possibilities.
She further said "We live in a time where technology drives innovation, advancement, transforms businesses and generally impacts every facet of our daily lives.
" These are reasons young people should embrace the various opportunities that are presented by the digital economy by up-skilling themselves with the necessary digital skills necessary to thrive in our world today."
Also speaking, the Director Skills Development, Miss Daisy Iloba stated that the e-learning hub was an initiative by the leadership of the national organisation to enhance members' growth and development.
She tasked participants to key into the digital growth to enhance learning and development.
Iloba also trained the participants on the usage of the JCI Nigeria e-learning hub, a platform which offers access to over 1,200 free skills development and training courses at their disposal.
The training session was an eye opener for youths to tap into various opportunities and skills to enable them excel in a Digital Economy.
High point of the programme was the induction of new members into the organisation.
The Local Organisation President, Mr Victor Enabudoso while inducting the new members stated that the organisation was poised towards the leadership development of young professionals who would in turn create a better society through valuable individual development programmes as well as sustainable and impactful societal developmental projects.
He admonished the newly inducted members to take advantage of the leadership development opportunities that the organisation presents them and be good ambassadors wherever they find themselves.
Some of the newly inducted members expressed their appreciation to the organization for giving them the privilege to be a part of a global network of young enterprising leaders like JCI Lekki Royale.
The inductees said they would continue to uphold the personal growth and societal development philosophy of the organisation.
Junior Chamber International, Lekki Royale, is a leadership development organisation for young people based in Lekki, Lagos State.
Photo caption:
From Left: President, JCI Lekki Royale, Mr Victor Enabudoso, Guest  Speaker, Mrs Mercy George-Igbafe and Immediate Past President, JCI Lekki Royale, JCIN Amb Chinelo Anwunah during a presentation at the event.