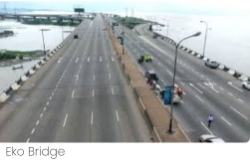 General News
Government announces closure of popular bridge in Lagos 
CITIZENS COMPASS – THE Lagos State Government on Friday, July 21, 2023, announced the closure of the Alaka/Costain- Iganmu section of the Eko Bridge (Inward Island) for a period of 40 days.
A statement issued yesterday by the Federal Controller of Works, Lagos, Engr. (Mrs.) O.I. Kesha, on behalf of the Permanent Secretary, said the closure is "as a result of the damage noticed on some of the bridge members which needed to be urgently worked upon.
It should be noted that any further delay in the repairs and replacement of some of these bridge members could undermine the integrity and structural stability of the entire bridge and the consequence of this can be better imagined.
"It should, however, be noted that the Lagos State Governor, His Excellency, Mr. Babajide Sanwo-Olu and the Federal Controller Of Works, Mrs Olukorede Kesha during the opening of the Apongbon section of the Bridge announced that intermittent closures will be carried out as the maintenance work progresses.
According to the statement, the closure would begin from Sunday, July 23, 2023.
The statement also said the closure was as a result of the damage noticed on some parts of the Eko Bridge structures which needed to be urgently rehabilitated to restore the integrity of the bridge.
"The notification further disclosed that the Service Lane of the bridge leading to Iponri will be available for Motorists plying the route from Western Avenue and it's environs.
"While appreciating motorists for their usual cooperation, they are also advised to cooperate with the Traffic-Management Personnel deployed to guide them through their desired destinations,"