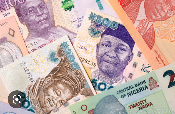 CITIZENS COMPASS– OGUN State Governor, Dapo Abiodun, on Tuesday, said he will shut down banks rejecting  old Naira notes across the state.
The governor's decision was as a result of the feedback from members of the public that some banks and filling stations were rejecting the old naira notes as legal tender.
Addressing market men and women at Itoku Kampala market in Abeokuta, he frowned at the action of the banks, noting that since the new naira notes were uavailable, commercial banks must accept the old notes to ease the suffering of the people.
The address was part of his reelection campaign to Abeokuta North Local Government Area of the State.
He called on the people to remain calm, assuring that his government was working assiduously to ensure that the present situation was brought under control.
Speaking on the epileptic power supply affecting the market, the governor assured that he would reach out to the appropriate authority to improve the power supply to the market.
While expressing dismay that the transformer given to the market was not functioning effectively, he directed that new ones be brought to the market immediately.
Abiodun added that the controversy surrounding the non-issuance of documents to some shop owners at the market would be addressed.
He promised that some of the outstanding issues currently affecting the market would be given priority during his second term in office.
The governor appreciated the traders for their support so far, imploring them to vote for all candidates of the All Progressives Congress (APC) in the February 25 and March 11 elections.
The governor promised that 200 market men and women would benefit from the government's loan arrangement, saying that the Oko Owo Dapo scheme would be extended to them.
Addressing the people at the Mokola-Elega Under Bridge, Abiodun stated that his administration would complete the road during his second term, calling for their maximum support in the elections.
The Otun Iyaloja of Itoku, Mrs Simbiat Oyetola, commended the governor for the boreholes provided in the market, urging the governor to assist the traders in resolving the problem of epileptic power supply.