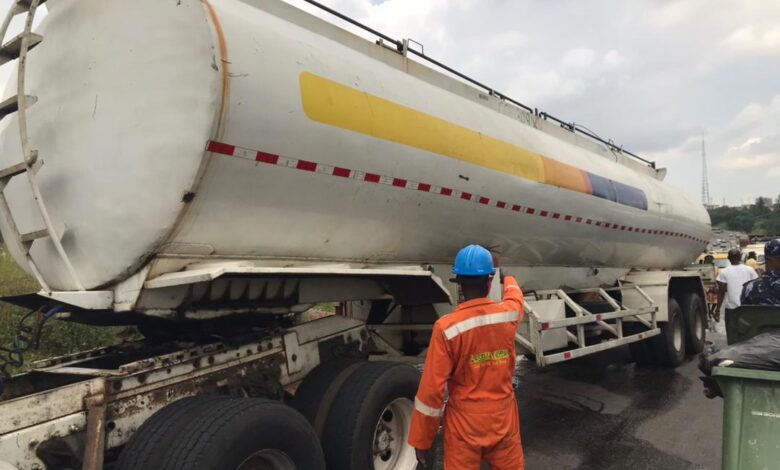 Road users on Lagos/Ibadan Expressway were stranded for hours as a tanker reportedly caught fire on Otedola Bridge.
The tanker laden with 45,000 litres of diesel was was said to have developed electrical fault inward Lagos but the swift response of emergency responders was said to have prevented further damages at the scene as the fire was immediately put out.
The incident reportedly occurred at about 10.30 in the morning
Though no life was lost nor injuries sustained at the scene, but scores of road users were cut off from the expressway thereby causing serious traffic gridlock in the axis.
Traffic enforcement agencies from both Lagos State and federal government were said to have diverted the traffic while ensuring the safety of the road users.
The incident was confirmed by the Spokesperson, Lagos State Emergency Management Agency LASEMA, Nosa Okunbor, who attributed the it to electrical fault while on motion.
He said the agency responded to a distress call on its Toll Free 767/112 Emergency Lines.
"This morning, LASEMA is recovering the gutted tanker loaded with 45 000 litres of diesel.
"According to the Situation Report emanating from the DG/CEO LASEMA, Dr. Olufemi Oke-Osanyintolu, on the gutted Tanker truck on Otedola Bridge inward Berger;
"Upon arrival at the scene, it was observed that a Mack Tanker Truck with no number plate loaded with 45,000 litres of diesel was gutted by fire while descending Otedola bridge inward Berger.
"Further investigations gathered at the scene of the incident revealed that the fire started as result of electrical fault developed while on motion.
"Due to the quick intervention of the Agency's Tiger team and the Lagos fire service, the fire was extinguished and prevented from spreading into the main storage tank,"
At press time, the recovery of the tanker truck was ongoing while the traffic has been diverted.