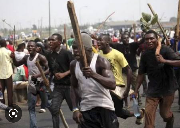 Community
Hoodlums clash over court judgment in Lagos
CITIZENS COMPASS -THE peaceful atmosphere at Magodo-Isheri area of Lagos was threatened on Tuesday, April 11, 2023, when some hoodlums in the area clashed over a court judgment. 
The hoodlums were said to have stormed the area to prevent court bailiffs from pasting an Appeal Court's judgment given on March 16, 2023, confirming landlords in the community as owners of the land.
The hoodlums, it was alleged, stormed the palace of the traditional ruler of Isheri.
Some youths resident in the area, however, resisted the invaders, resulting in a free-for-all involving the use of dangerous weapons.
The crisis created gridlock on the ever-busy Lagos-Ibadan Expressway as motorists had to explore alternative routes to escape the fray.
However, Lagos State Police Command has vowed to prosecute those responsible for the breach of peace in the area. 
Lagos State Commissioner of Police, Mr Idowu Owohunwa, disclosed this after a peace meeting with the warring parties. 
Owohunwa expressed regret that the action of the two warring groups breached public peace.
He advised the warring groups to explore judicial process in the resolution of their disagreement rather than cause chaos in the estate.
"My message is that for those involved in this breach, they will be held accountable for their actions.
The Criminal Investigation Department (CID) has been asked to take over the investigation.
"We have identified some of the actors and we are in the process of apprehending and bringing them to justice,'' he said.
Owohunwa said no arrest had been made as the immediate challenge was to quickly restore normalcy to the area in the heat of the crisis.
"Now that peace has been achieved, the next thing is to go after those involved in breaching public peace.
"Now that the CID has taken over the case, there will be arrests any moment from now,'' Owohunwa assured.