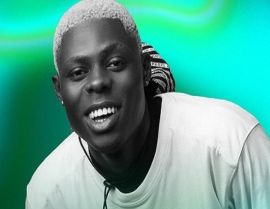 CITIZENS COMPASS —THE Elegushi Royal Family of Lagos State has strongly disowned Samsom Erinfolami Balogun, popularly known as Sam Larry,  who was alleged by the late singer, Mohbad to have been bullying him on behalf of Oba Elegushi, Saheed Ademola.
Samsom is an ally of Naira Marley, a popular artist. 
Recall that a petition was written to the police by the late Mohbad had referred to Sam Larry claiming to be acting on behalf of Oba Elegushi to deal with him, Mohbad.
Besides, a video that has since gone viral showed the late Mohbad being assaulted by some people allegedly led by Sam Larry during a video shoot.
Zlatan Ibile who was on the set with Mohbad tried to prevent the assault as Mohbad fled from the scene.
Mohbad had written a petition allegedly accusing Sam Larry of being after his life and that his assailant claimed to be working on behalf of Oba Elegushi.
However, responding late on Thursday, the Elegushi royal family disowned Sam Larry even as it called for a deep investigation of the circumstances that led to the death of Mohbad.
The statement reads, "The Elegushi Royal Family of Eti-Osa wishes to put on record the misinformation on the media space involving Sanmson Erinfolami Balogun (AKA Sam Larry).
"Samson Balogun is not a member of the royal family and does not work for the royal family or king in any capacity. Like other celebrities, politicians, religious and community leaders, he visits the place to pay homage to the king and seek royal blessings just like other members of the public.
"While extending our condolences to the family and friends of the late Ilerioluwa Aloba (known as Mohbad), we would like to like to add our voice to the calls for a thorough investigation into circumstances surrounding his death with a view to unraveling any foul play.
"We ask our friends in the media to be mindful of the sensitivity of the issue and desist from spreading falsehood that may jeopardise this investigation."