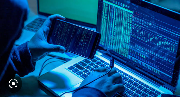 CITIZENS COMPASS– AN agency with the Federal Government of Nigeria, the Nigerian Deposit Insurance Corporation (NDIC), has raised alarm over the new tactics of internet fraudsters to hack money in bank accounts.
NDIC said the trend has brought about increase in bank fraud cases.
The commission disclosed this on its social media handles to alert bank customers about the new tactics.
To address this issue, the commission has cautioned bank customers to remain alert and keep their pin codes off strangers.
The commission advised bank customers to secure their details no matter their tight schedule.
NDIC advised bank customers to avoid not displaying their banking details to anyone and ensure that their debit card numbers and Card Verification Value (CVV) were not exposed to people.
The statement partly reads: "The Corporation said that customers should ensure that their phones had password and they must not share their bank mobile application password to anyone. "NDIC also warned bank customers to ensure that their token were secured and other parties did not have access to it."
A Nigerian man who identifies as Engineer Victor exposed the new technique in a new video shared on Tiktok. According to him, with the technique in one click, internet fraudsters can move money out of their victims' accounts without having their ATM cards, pins or OTP. Victor explained that these fraudsters obtain people's phone numbers through a specialized application and then send unsolicited messages.
He further warned that individuals who follow the instructions or even click on the message could end up losing their money.