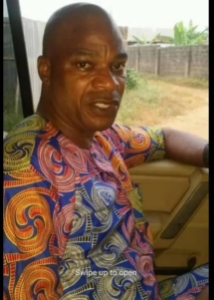 Community
How palace chiefs, land grabbers allegedly killed APC chieftain over N5, 000 in Lagos 
… They hit him with shovel—Son 
By Bose Adelaja
CITIZENS COMPASS —His wife, Olabisi Alli, was preparing for her birthday today, Sunday, November 12, 2023, and had gone for photo shoot but mid-way, she received an emergency call that her husband, Samsondeen Ali, had been attacked by some palace chiefs in conjunction with some Omo Oniles (land grabbers). 
Time was about 10a.m on Saturday, November 11, 2023 and she quickly rushed home only to meet her husband in the pool of his own blood being aided by his attackers. 
Upon enquiry, she was told that one of the assailants hit her husband's head and chest with a shovel in the course of an argument, then, he slumped and died few minutes later. 
Until his death, Alli was a spray printer and former councillorship aspirant of the All-Progressives Congress (APC) in Ward B, Oworonshoki, Lagos State. 
According to the deceased's son, Allu Moshood who witnessed the killing of his father, the deceased who occupied some blocks of flats with his immediate family at Aralamo Street, Oworonshoki, was trying to erect a fence around his building for security reasons when the Omo Oniles (landgrabbers) approached him, stopped the work and demanded for a fee before he could be allowed to proceed. 
Fortunately for Alli, the Omo Oniles were familiar faces in the neighbourhood and he quickly recognised two palace chiefs among them though they all have escaped from the community. 
The 15 years old Moshood said his grandmother was in on a visit when the assailants came calling. 
According to him, "My grandmother was at home while my mother had gone out but I was with my father when the incident occurred. 
"Myy father was invited bricklayers to erect the wall of our house but Afolabi ati Nuru came to stop the work and asked my father to pau some amount but my father faced Nuru and said, 'Nuru, se' wo o mo mi ni (Nuru, don't you know me)?
" Before my father could finish talking, Nuru had reached for a shovel and hit him on head and chest and my father slumped on the spot as Niru grabbed him on the neck struggling with him.
"He waa taken to the hospital in Nuru's car but died shortly and was deposited at a morgue.."
According to a resident, Oloye Seun Salami, "the assailants demanded that he pay them N5,000 before he could proceed with his construction.
" They hit him on the head and chest with a shovel and a plank, causing him to slump. He was rushed to Afolabi Medical Hospital in one of the assailants' jeep identified as Suraju, but he fled the scene and abandoned his car at the hospital when the doctor advised that the victim be taken to another hospital.
"The incident was witnessed by Mrs Ajanlekoko, the mother-in-law of the deceased, who said that the Omo Oniles had been threatening and harassing her and her family since the demolition of their houses. 
"She said they beat her, attacked her spiritually, and now they have killed her son-in-law. She demanded justice from the government and called for the arrest and prosecution of the culprits. She said that Mrs Silifa, popularly known as Iya-Agan, is the elder sister of Suraju, who killed Hon. Ali.
"Hon. Ali is survived by his wife and young children, who are still in school. Mrs Ajanlekoko lamented who would cater for the family now that their breadwinner is gone." 
He said Police in Lagos have launched investigations into the killing. 
The body has been deposited at Yaba Military Hospital, Lagos. 
Alli's death has sparked protests in the community as protesting youths have staged protests at the palace of the Oloworo of Oworo Kingdom over the killing. 
Meanwhile, the Oloworo of Oworonshoki, 
Babatunde Saliu, has distanced the palace from the death. 
The monarch disclosed this in a statement on Sunday, November 12, 2023. 
He said the palace chiefs, Lukmon Taiwo popularly known as Bobalabe annd Nurudeen Suraju who were fingered in the murder did not represent the interest of the palace. He said, "Lukmon  Taiwo alias Bobalabe and Nurudeen Suraju, are known as" Omo Oniles" though indigenes of Oworonshoki but are not affiliated with the palace, or represent interests of the royal establishment.
" Any individual found guilty of criminal activities will not go unpunished, and the palace supports the efforts of law enforcement in ensuring justice prevails."