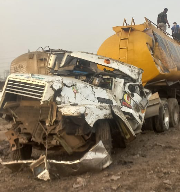 CITIZENS COMPASS– One person was dead while another was injured in an overnight accident which affected an oil tanker at Otto Wharf bus stop, Apapa – Oshodi Expressway, Mile 2, Lagos.
According to eye witnesses' account, the tanker was heading for Oshodi from Apapa when the incident occurred.
However, emergency responders immediately razed to the scene to prevent any secondary incident.
The Director, Lagos State Fire and Rescue Service, Adeseye Margaret confirmed the incident to Citizens Compass on Sunday, January 15, 2023.
She said, "The incident, which was reported at 04:02, Sunday wee hours, has a 45,000 Litres tanker heading towards Oshodi from Apapa where it loaded AGO also known as Diesel to full capacity before it was reported to have fallen on a stationed towing van while on motion, negotiating it's way out of barriers introduced by nefarious tolls collector activities.
"The resultant accident, which was mitigated by the Sari-Iganmu Fire Crew of the Agency from resulting in Fire outbreak and secondary incident, however left two males adults involved as one was rescued alive with varying degree of injury to the hospital and the other recovered suspected dead.
"The evacuation of the remains of the tanker and towing van carried out with any atom of further danger completely averted to bring the operations to a logical conclusion."