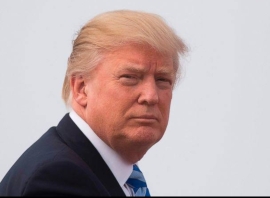 CITIZENS COMPASS —THE Spiritual Leader of INRI Evangelical Spiritual Church, Primate Elijah Ayodele remains the major prophet who foretold the victory, loss and aftermath of Donald Trump's administration as former President of the United States of America (USA). 
The recent happenings in the country can attest to this. 
The  Primate was among few clerics who prophesied the surprising emergence of Donald Trump as USA President some years back. 
He also predicted the unfortunate loss at the last presidential election that produced Joe Biden.
For years, Primate Ayodele has been speaking about former President Donald Trump; His emergence as the president, how his administration will be perceived by the people, how he was going to lose the presidential seat, and what will become of him after his exit from the presidential seat.
On Sunday, December 28, 2014, Primate Ayodele in Sun Newspaper simply said that the candidate of the Republican Party will take over from Barack Obama as the President of the USA. At that time, Obama's Democratic Party had elected Hillary Clinton as the candidate while Republicans elected Donald Trump.
"Republican Party nominee will take over from Obama as the President of America in the coming general election." (Sunday Sun December 28, 2014, page 38).
In the same vein, Primate Ayodele returned to speak about Trump's political career in 2019 when he revealed that a strong Democratic party candidate will unseat him.
"Trump's second term is uncertain. There will be an attempt to impeach Trump but I see him surviving the plot. I see a serious candidate from the Democrat unseating him in the 2020 election.''
When Donald Trump was trying every means to ensure that he remained in power, Primate Ayodele revealed that God had decided to push him out of power and that he would leave power in shame.
"God wants to push Donald Trump out of government. No matter what he does to destroy America and the world, God has rejected Trump. He will go in shame, this is the word of the Lord. Donald Trump should have left, what he has done is wrong. Why then do we blame African presidents? This attitude of Trump is creating war, He has been rejected by God, "
True to the words of Primate Ayodele, Donald Trump faced an impeachment threat which he survived but lost the election disgracefully and shamefully to Joe Biden, in accordance with the prophet's revelations.
Beyond the prophecies regarding Donald Trump's victory and exit from the seat, Primate Ayodele further revealed some of the things that will happen to the former president after he leaves office. The prophet mentioned that he would face a series of legal issues and that his wife would divorce him. This was in 2020 during the period the election was held.
It is very rare for former presidents especially in the USA to face serious legal issues that could lead them to jail or get them arrested and this made the prophecy of Primate Ayodele about Donald Trump to be incredible.
His words
"I foresee a Divorce between US President, Donald Trump and his wife, Melania Trump. Donald Trump will face some legal challenges that will disgrace him when he leaves government. This is why He is yet to accept defeat." (https://dailypost.ng/2020/11/11/us-i-foresee-divorce-between-trump-melania-hell-be-disgraced-primate-ayodele/)
However, three years later, the latter part of Primate Ayodele's prophecies about Donald Trump is coming to pass. It is no more news that the former president has been made to face a series of legal issues in the last few months, He has been arrested and just yesterday, surrendered to the Fulton County jail in Atlanta over more than a dozen charges.
The charges bordered on his attempts to overturn Georgia's 2020 election results.
A mugshot of Trump was released soon after he left jail on Thursday.
It is the fourth time this year that Trump has faced criminal charges. The Republican has now made history as the first former US president to have a mugshot.
Also, it seems like there's trouble in paradise for the Trumps. Melania Trump, the former first lady and wife of ex-president Donald Trump, is reportedly distancing herself from her husband amidst rumors of cheating scandals and an impending indictment. There are even whispers that the couple might be headed for divorce.
As Primate Ayodele foretold, Donald Trump is facing legal challenges that can best be seen as disgraceful, especially at a time when he intends to return to the number one seat in the country. His wife's attempt to file a divorce is also another huge embarrassment to the former president.
In all of these, Primate Ayodele deserves to be celebrated for being the only prophet who foretold the victory, loss, and aftermath of former president, Donald Trump's administration.