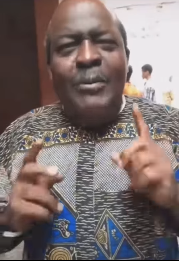 CITIZENS COMPASS– Veteran actor, Richard Abiodun Ayoyinka popularlly known as 'Papa Ajasco', has debunked the speculations that he died on Saturday, January 14, 2023.
He said what happened was a mistaken identity of 'Papa Ajasco' in the popular 1996 Sitcom by Wale Adenuga Production (WAP), Femi Ogunrombi who passed on.
Ogunrombi's death was confirmed by a theatre practitioner, Husseini Shaibu, via his Twitter handle on Sunday.
Ogunrombi took over the character, 'Papa Ajasco', when the former character, Abiodun Ayoyinka pulled out of the show.
In a video obtained by pressmen on Sunday, Ayoyinka thanked his numerous fans for their concerns over the widely circulated death rumour.
My name is Abiodun Ayoyinka, popularlly known as 'Papa Ajasco', I am not dead, I am alive. Thanks to my fans out there for your concern. I really appreciate you, 'O jigbi, jigbi, jigbi…"
Meanwhile, Ogunrombi's death was confirmed by a theatre practitioner, Husseini Shaibu, on his Twitter handle on Sunday,
He wrote, "I have just been reliably informed that the ethnomusicologist, former Music Instructor with #NATIONALTROUPE and one time stand in for the 'Papa Ajasco' character on the popular #waleadenugaprod comic series 'Papa Ajasco' Mr. Femi Ogunrombi is dead."