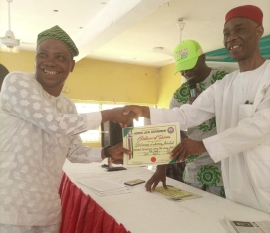 By Abimbola Joseph
CITIZENS COMPASS —Ikorodu Local Government in Lagos State, has inaugurated the new executive members of the Community Development Commission (CDC) and Community Development Associations (CDAs) for the next dispensation. 
This took place at the Council Secretariat on Tuesday. 
Speaking at the event, CDC Chairman, Elder Yekini Ogunjimi, urged members to harness the collective energy of community leaders to address the challenges faced and seized the opportunity lying ahead.
 "I encouraged each of us to actively engage in this collaborative effort, share your expertise, experience and your passion. 
 "Let us harness the collective energy of our community leaders to addresses the challenges we faced and seize the opportunities that lies ahead. 
 "Today, we mark a new beginning where we transcend the boundaries of individual associations and stand together as a formidable force for positive change," Ogunjimi said. 
According to the CDC chairman, the community development journey has always been about creating a better quality of life for all residents, irrespective of their backgrounds, needs or aspirations.
He said that CDC under his leadership would run an all inclusive leadership where voice within the diverse community is heard and work in a collaboration to achieve more than any single entity.  He added that the association would engage in empowering communities, sustainability and address the challenges of road in all  as well as making security an utmost priority. 
Earlier, the Council chairman, Mr Wasiu Adesina, urged the new executives to cooperate and work in collaboration to achieve good results.
Adesina commended the outgoing members for a weldone job and  welcome the newly sworn in excos and urged them to work together as a team to achieve good results during their tenure.  
The chairman, represented by Mr Lateef Afinni, Secretary to the local government said the council would partner with the associations for effecient service delivery to residents and urged them to key into the THRMES agenda of Gov. Babajide Sanwo-olu. 
"The local government thank the outgoing exco for a fantastic job and calls for cooperation amongst them.  "I urge the association to support one of them who is contesting as secretary at the state level.  
"The local government is also ready to partner with you for smooth running of your activities. 
"In case there is any infraction or complaint, don't hesitate to meet me because my door is open to you all," he said.