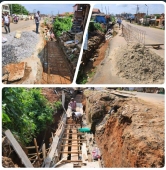 Community
Sesan Daini commences reconstruction, of drainage at Ojota
CITIZENS COMPASS – THE Council Chairman of Igbogbo/Baiyeku Local Council Development Area (LCDA), Ikorodu Division, Sesan Daini has commenced reconstruction and barricades of drainage channel at Ojota Bus Stop along Oba Molaja Ogunlewe Road in the LCDA.
The project is in a bid to revamp critical infrastructure in the area.
Oba Molaja Ogunlewe Road holds immense significance for the local community, serving as a vital thorough fare for both Commuter and vehicular movement within the LCDA.
Razaq Kabiru, Chief Press Secretary, to the LCDA, who disclosed this in a statement signed on Tuesday, July 4, 2023, said reconstruction and barricade is also one of the requests of the LCDA legislature for urgent intervention.
The planned reconstruction involves transforming the road drain into a 300mm x 600mm suspended concrete beam, functioning as a flyover above the canal.
Additionally, 300mm x 300mm reinforced concrete columns will provide essential support for these beams.
Furthermore, the project includes the installation of a 20m length of 1m x 1m reinforced concrete drain and an 8m length of 2m x 2m reinforced concrete trapezoidal drain/retaining wall, strategically positioned on reinforced concrete beams and columns.
This comprehensive drainage system is designed to efficiently collect water from both ends of the road.
Bldr. Olusesan Daini emphasized the administration's commitment to alleviate the challenges faced by road users in the community.
Acknowledging their role as the third tier of Government, the LCDA pledges to establish sustainable framework for the development of road infrastructure, bringing much-needed relief and support to the populace.
Furthermore, the LCDA has reached out to the Lagos State Government, urging prompt attention to the state of roads within Igbogbo/Baiyeku LCDA, seeking their collaboration and assistance in resolving the critical Infrastructural needs in the area.
Daini affirmed that the LCDA remains resolute in providing the necessary backing for road and drainage infrastructure projects to ensure the longevity and functionality of the community roads.
With the reconstruction now underway, residents of Igbogbo/Baiyeku LCDA eagerly anticipate the positive impact this revitalization project will bring to their daily lives and overall well-being.
As the efforts continue, the community remains optimistic about a brighter and more prosperous future, bolstered by improved infrastructure and connectivity.