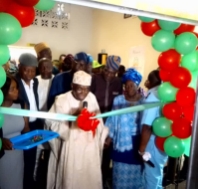 Community
Ikorodu LG boss inaugurates 1,200 – seater ultra modern event centre to boost IGR
By Abimbola Joseph
CITIZENS COMPASS – THE Chairman of Ikorodu Local Government, Mr Wasiu Adesina, on Tuesday, advised local government authorities to embrace public/private partnership system for econmic development and revenue generation.
Adesina gave the advise during the inauguration of an Ultra-modern events centre at the council secreteriat in Ikorodu, Lagos.
Citizens Compass reports that the center known as OClean is a unique architectural masterpiece that defines hopitality at its best.
The council boss said that the idea is geared towards creating an avenue to increase the internally generated revenue of the council.
"I am full of joy and gratitude to God Almighty that today's event brings us together on a very good note of achievement, commissioning a newly invented idea of an event Hall.
"Oclean event centre, is one of the biggest and luxurious edifice in the local government with such features as 1,200 banquet-seating capacity with parking of over 500 vehicles.
"I appreciate the concept and idea of OCLEAN Enterprises in partnership with Ikorodu Local Government and that is why I take it upon myself to commission this laudable event hall.
"I have always mentioned that my administration will always welcome new ideas to progress that will elevate the development of Ikorodu Local Government," he said.
The chairman expressed gratitude to Lagos State Governor, Babajide Sanwo-Olu for his support at all times and the president-elect, Bola Tinubu and all our apex party leader for continuity and progress of All Progress Congress (APC) party.
Earlier, the Managing Director of Clean, Mr Babatunde Akadri, said the event centre can cater for weddings, exhibitions, product launches and activations, fashion shows, funeral parties, conferences and programmes.
Akadri, said the best way for development in the country especially the grassroots is to key into the system of private/public partnership (PPP) for maintainance and sustainability of ideas." combining safety with comfort,"
Also speaking, Mr Dapo Komolafe, Regional Manager, Police Micro Finance said that "PPP is the best way in building the Nation and and development of the economy,"
Present at the event was former deputy governor of Lagos State, Prince Abiodun Ogunleye who performed the cutting of tape, First Head of Service, Lagos State, Mr Babatunde Rotinwa.
Others are Iyaloja of Ikorodu, Alhaja Taofikat Allynson and APC party chieftains in Ikorodu among other dignitaries.