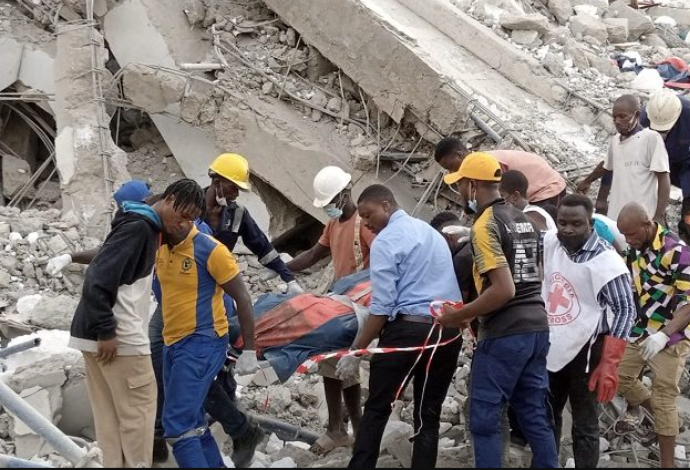 General News
Ikoyi building collapse: Lagos rejects  response unit deployed by FG  to assist in rescue operation  
...two additional body recovered 
LAGOS State Government has rejected the 2nd batch of Military engineers sent by the  Federal Government of Nigeria to assist in the rescue ongoing rescue operation at the scene of the Ikoyi building collapse which entered Day 7 on Sunday,
Sources said the team headed by Brigadier General Omali on arrival ,was received by the Acting Coordinator,  National Emergency Management Agency NEMA, Lagos State Territorial District, Ibrahim Farinloye, who has been on the rescue site since Monday. 
The team was introduced to Lagos State Commissioners of Special Duties and Physical Planning.
It was gathered that the engineers explained that a directive from Abuja directed them to deploy equipment to assist in carting away the rubble.
However, the Commissioner for Special Duties in response informed the Team that the work was near completion and what were on ground were enough to complete the remaining rescue operation.
It was learnt that the team immediately left the scene after the discussion with the commissioners. 
Meanwhile, additional 2 male bodies were recovered on Sunday night after Lagos State Governor, Babajide Sanwo-Olu had said 42 bodies were recovered during the ongoing rescue operation. 
One of the bodies was recovered at about 10pm while the other was rescued before midnight.
Recalled that the FG deployed the Disaster Response Unit (DRU) of the Nigerian Army  to the rescue site on the first day of the incident to assist in the rescue operation. 
The state government in a statement said 49 families have registered their missing relatives at the scene.