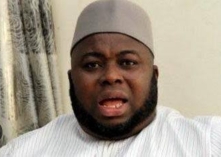 Community
I'll still be selling Igbo like my forebears, Asari Dokub boasts 
CITIZENS COMPASS – FORMER Niger Delta agitator, Mujahid Asari Dokubo, has boasted that he will still be trading on hemp as he goes about his activities in the region.
Dokubo disclosed this in a viral video on Tuesday night. 
The video addressed Igbo people as slaves who would have continued to be sold if not for the British government's intervention.
He said, "The Igbo people do not know their roots. They don't have respect for who bought their father. You think every Kalabari man is a Kalabari man.
"See how the Igbo people are dying. They keep saying that I have run away. Look at me; I'm here," he said.
Dokubo, while displaying an AK-47 rifle in the video, added that the Igbos are just seeking attention.
A section of the media had earlier reported that Dokubo during a visit to President Bola Ahmed Tinubu said Nnamdi Kanu was a criminal who contributed to the crises that emerged from nationwide #EndSARS protests across the country, hence, should face the music.
He added, "His release would fuel impunity; during #EndSARS, Nnamdi Kanu was walking free. What did he do? He poured petrol on the flames of #EndSARS. Now, he has been caught. What of the people who have died? This is a criminal. He should face the law."
Meanwhile, IPOB, through a statement by its media and Publicity secretary, Emma Powerful, said Kanu is not a criminal but has become a political prisoner for championing a sovereign state of Biafra.
IPOB stressed, "Those campaigning for the continuous detention of Mazi Nnamdi Kanu in DSS solitary confinement forgot that militancy for monetary gains is in the same category as criminals and terrorists."
The pro-Biafra group noted, "From freedom fighter to bunkering militant; from militant to ex-militant; from ex-militant to oil pipeline guard; from pipeline guard to Biafra agitator; from agitator to ex-agitator; from ex-agitator to political thug; from thuggery to a government informant. Wash a pig, clothe a pig, and a pig will always remain a pig.