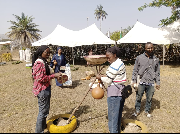 CITIZENS COMPASS- A not-for-profit research, recreation and community development initiative, Trans Atlantic Centre, (TAC), is set to support the government of Kogi State in
in grassroots development especially through tourism, entertainments, craft and arts.
This has received a boost in the Kogi Central area of the state.
The project is in collaboration with Tafari Hotel and Suites, AFIM Hotels Limited and the annual Ebira Carnival Project.
Others are Calabash Film Production, MLC Television Production and Newsdiary online among others.
Already, the Office of the Senior Special Adviser to the Executive Governor of Kogi state, on Entertainment and New Media have endorsed the project and providing official support through promotions.
Lined up for execution as part of the collaboration are two epoch-making events, which include the first Kogi Central All Artistes and Entertainment Summit and the Tourism, Arts and Craft Expo 2023.
Some of the expectations from the two events are to build the capacity of major stakeholders in the tourism and entertainment industries, provide certification for participants as well as set in motion the process of developing the business for local and foreign interests.
In a chat with the lead facilitator of the programs and projects, Mr. Mohammed Bougei Attah of TAC, he disclosed that the projects are part of the ongoing efforts to support the Kogi State Government in driving development to the people and the area through the private sector. In his worlds, he claimed "we cannot always claim to support the government without something on the ground to show.
The initiative and partnership therefore are aimed exposing the area and the state to foreign direct investment, encouraging real tourism development and making the central a truly transit haven for visitors".