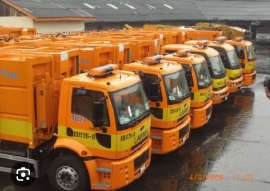 Community
Ladipo Market remains shut—Lagos govt 
CITIZENS COMPASS —The Lagos State Government on Monday, October 9, 2023, said it is yet to reopen the popular Ladipo Market after its recent closure.
The Government said this is due to the fact that it was yet to perfect some environmental and safety conditions, required before recommencing business activities. 
Some of the reopened markets include Oyingbo, Ile Epo Oke-Odo and Alamutu markets.
Managing Director/CEO of Lagos Waste Management Authority (LAWMA), Dr. Muyiwa Gbadegesin, who made the clarification, noted that the market remained closed because it observed that its management had not fully met stipulated mandatory safety and environmental measures earlier outlined by the Authority. 
He said, "Our primary concern is the safety of the people and environmental well-being at marketplaces. Reopening is contingent upon strict adherence to the safety conditions set forth by LAWMA. 
It is imperative that all necessary precautions are taken to prevent any potential risks."
Dr. Gbadegesin added that while several markets had successfully met the outlined safety requirements and had been permitted to resume business, Ladipo Market would also  be reopened to business activities, once it passed the requisite safety audit.