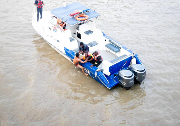 EMERGENCY responders in Lagos State have activated search and rescue operation for a lady believed to be in her late 30s who reportedly died of suicide by jumping into the lagoon on Thursday, November 10, 2022.
The incident occurred in the early hours on the Third Mainland Bridge.
The lady was said to have alighted from a taxi and jumped into the lagoon before help could come.
Some Lagosians said she was likely to have been jilted by a boyfriend.
According to the cab driver who is currently being interrogated over the incident, the lady while in the taxi was involved in a hot argument with her boyfriend, in a telephone conversation before alighting from the tax to jump into the Lagoon.
He was said to have alerted people about the incident unfortunately, there was no remedy.
Citizens Compass learnt that she called the taxi driver at about 3am to take her out but on getting to the Third Mainland Bridge, she stopped the driver and the next was to jump into the Lagoon.
Efforts to stop her were unsuccesful.
She was said to be a suspected perssonnel of Department of State Service (DSS).
At press time, emergency responders were in search of the victim.
Confirming the incident, LASEMA Permanent Secretary, Dr Olufemi Oke-Osanyinyolu said the search and rescue involved men of Lagos State Fire and Rescue Service, Lagos State Waterways Authority, LASWA, and officials of the Department of State Service (DSS). He said, "Upon arrival of the LRT at the incident scene, investigation revealed that a lady in her late thirties (30s) plunged into the Lagos lagoon.
"Further investigation revealed that the lady alighted from a Uber taxi car on the bridge and plunged into the lagoon.
"The driver of the taxi claimed she was having a heated conversation with her fiance before alighting from the car.
"The LRT, Men of Lagos State fire and rescue service, LASWA and officials of the Department of State Service (DSS) are currently on ground working better together to search for the victim.
Operation ongoing. Updates to follow."