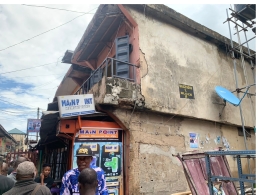 CITIZENS COMPASS – THE Alaba Amalgamated Council has called on the Lagos State Governor, Babajide Sanwo-Olu, to probe the demolition exercise carried out by the Lagos State Building Control Agency (LASBCA), at Alaba International Market, Ojo Local Government Area of the state.
A statement signed by the council on Tuesday, June 27, 2023, revealed that over 30 properties worth billions of naira were demolished.
President-General of Alaba Amalgamated Council of Sectional Heads, Mr Geofrey Mbonu, revealed that some buildings that were not initially marked and with no sign of defects were demolished during the exercise.
He narrated that prior to the demolition, there was no notice given to them by the agency.
He said,
We were not given time to even evacuate our goods. On Friday, June 16, 2023, officials of the LASBCA and armed policemen were seen in the market and on Sunday, traders' properties were brought down.
We the leaders of Alaba International Amalgamated Association want to show our displeasure in the way and manner this exercise was carried out.
"The leaders of the market were never carried along neither were the property owners given enough time to evacuate their goods and this led to the unmitigated loss of wares and properties. The demolition has brought hardship and loss of livelihood.
We call on the Executive Governor of Lagos State, His Excellency, Babajide Sanwo-Olu, to come and inspect what is going on in the Alaba International Market."
The President, Alaba International Market Association, Electronics Section, Mr Camillus Amajuoyi, said the demolition took place suddenly and the extent of damage was enormous.
Amajuoyi said they had written several petitions to the Lagos State Government on the exploitative activities of miscreants in the market, adding that the state government did not pay attention to their needs.