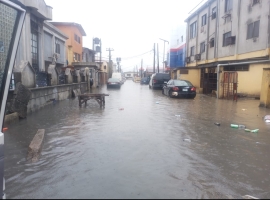 Community
Lagos communities that will experience flood in 2023
CITIZENS COMPASS – The National Emergency Management Agency (NEMA) has alerted some communities in Lagos State and its environ, , to prepare themselves for flooding in the next couple of months. 
NEMA enjoined such residents to take utmost precautions in order to avoid dangers as a result of torrential rainfall being witnessed presently.
In a statement in Lagos, the Coordinator, Lagos State Territorial District, NEMA, Ibrahim Farinloye, who disclosed this on Thursday, , April 27, 2023, said following the rainfall on that day which grounded most part of Lagos and Ogun states. 
The downpour started at about 1pm resuled in traffic gridlock that lasted for hours. 
Some motorists were seen pushing their vehicles which got stranded in flood
Similarly, Area Boys seized the avenue to do brisk business through pushing of vehicles. 
Farinloye advised school proprietors and teachers to keep students under their custody during rainfallls. He said, " This is to safeguard them from playing in the rainwater on their way home.
As for the rainfall of last Thursday, he said, " After the flashing flooding, which will not last beyond 30 minutes, it will be safe for the children to find their way home." 
NEMA advises drivers 
" Drivers are hereby warned to exercise patience as highways have being blocked.
" People should avoid taking refuge in a makeshift shelter as the place can be washed off by floods.
" The Agency and other stakeholders are on the highways to monitor and respond to any distress situation that may arise."
The Lagos Coordinator said the agency visited some areas including, " De Mato Nursery and Primary School located at Papa Ashafa, Markaz, Howo and Ayeni in Agege LGA, Orisumbare, Oke Ishagun and Isale Aborun in Alimoso LGA are some of the  communities monitored. ** He added. 
Farioye enjoined residents to always guide against danger. 
Earlier, NEMA had alerted residents of Agboyi/Ketu, Ikorodu, Alimosho, Lagos/Abeokuta Expressway, Shomolu, Itowolo, Majidun, Agilinti, Makok and Ijora-Bafia among others to be watchful.