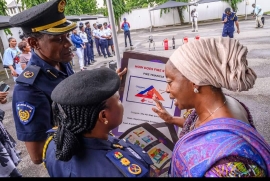 Community
Lagos fire service takes civic engagement to Office of First Lady
CITIZENS COMPASS – IN continuation of its civic engagement duty embedded in the core mandate of fire prevention, Lagos State Fire and Rescue Service, (LSFRS) held a sensitization session for staff of Office of the First Lady of Lagos State. 
The event took place on Tuesday, July 18, 2023, at the Lagos House, Ikeja. 
The Fire Safety Advocacy had the First Lady of Lagos State, Dr. (Mrs) Claudiana Ibijoke Sanwo-Olu and all officials of her office in attendance including her Security Operatives.
The Director, LSFRS, Mrs. Margaret Adeseye who led the sensitization crew, informed the audience that the Sanwo-Olu"s administration has proactively done its quota with huge investment in Public Order and Safety and it's time for the populace to reciprocate by keying into the Fire Safety Net as provided by the Government. 
She further informed that a total number of 5′,979 Fire and related emergencies were recorded in the first tenure of the current administration and attended to effectively in line with the Security and Governance of the THEMES Agenda. 
The educative Session also engaged the First Lady in the practical demonstration on usage of first aid fire fighting equipment and the entire staff were delighted by the acquired knowledge of Fire prevention and the necessary actions to take in case of Fire emergency.