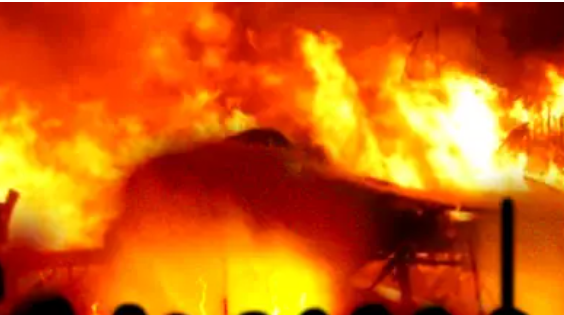 CITIZENS COMPASS– A fire incident which guys a storey building has claimed the life of a 40 years old woman, in Somolu area of Lagos.
However, a 50 years old man was rescued to the hospital.
The incident occured at about 03:18am, at House 14, Bolaji Omupo Street, Somolu.
Men of Lagos State Fire and Rescue Agency swing into action and contained the fire.
Adeseye Margaret, the Director of the fire service while confirming the incident said her men met the fire well alight.
Similarlly, Ikorodu Fire Station of the Agency attended to another Fire outbreak at a social welfare building in Agbowa, Ikorodu.
The building housing widows and orphans named Hope of God Grace opposite Oando Filling Station, was engulfed in fire.
Giving the updates about the Somolu fire outbreak, the Director said Isolo and Ilupeju Fire Stations met the Somolu fire well alight at the upper floor of the one storey building.
According to her, the fire affected seven rooms and four parlours of a storey building.
She said this was contained and prevented from escalating to the ground floor and adjoining buildings.
In the course of rescue operation, the male adult of about 50 years old was rescued to the hospital where he is responding to treatment while the female adult of about 41 years old was recovered and handed over to the State Environmental Health Monitoring Unit, (SEHMU).
Investigation, however, revealed negligence as the undercurrent cause that led to electrical upsurge when the power distribution company restored electricity to the area that ensued in the fire outbreak."
As for that of Ikorodu, Adeseye said, "The immediate mobilisation of Firefighters ensured a successful extinguishing of the Fire with no record of casualty.
"However, operations have since been concluded at both scenes."