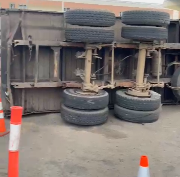 CITIZENS COMPASS- BARELY 24 hours after a train collided with a staff bus at PWD bus-stop area of Lagos, two trucks have fallen at different locations in Lagos on Friday, March 10, 2023.
One of them fell at Ketu while another was at Ikeja Under bridge, near Ayinke House.
Video clips of the incidents made available to Citizens Compass revealed law enforcement agents working to divert gridlock in the affected areas while emergency responders made efforts to perform rescue operations.
At Ketu, a rickety flat bed was scene on the road while it's container had fallen off.
Sympathisers were scene at the scenes as rescue operations were being carried out.
The incident caused gridlock as some road users including workers were stranded for hours.
No life was lost to the incident and no injury was recorded as the drivers and motor boys escaped unhurt.
In his updates, titled, situation report on truck incident at ikeja roundabout", the Permanent Secretary, Lagos State Emergency Management Agency (LASEMA), Olufemi Oke-Osanyintolu said, "On arrival at the incident scene, it was discovered that a truck with registration number LEM-951LA laden with a 40 ft container was found to have fallen on its side underneath the bridge at the aforementioned location.
Bystanders at the scene of Ketu accident

Investigation conducted by the Agency revealed that the truck driver while trying to navigate the roundabout, lost control of its wheel and subsequently fell on its side, thereby blocking 85% of the carriage way inward Airport Road, ikeja.
"No loss of life nor injury recorded as a result of the incident.
"The Agency's team and Nigeria police are on ground to ensure safety measures as we have determined that the contents of the truck must be trans loaded before the truck can be removed by the Agency's heavy-duty equipment."