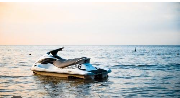 CITIZENS COMPASS– TWO days after a jet ski drowned at the Lekki-Ikoyi inland waterways in Lagos State, Lagos State Waterways Authority (LASWA) says it has recovered the body of the rider
LASWA General Manager, Oluwadamilola Emmanuel, disclosed this on Friday, January 13, 2023.
He said the body was recovered by local divers on Friday morning.
Recall that the unidentified man reportedly drowned on Wednesday, January 11, 2023 while overspeeding on the waterways and emergency response was activated immediately.
The General Manager said the local divers contacted emergency responders immediately after the body was found.
He said, "Emergency responders found the body on Friday morning with the help of locals in the area. When the locals saw the body, they informed us and we went there to identify and recover it. It has been handed over to the marine police."
The LASWA boss said the identity of the deceased was not ascertained before it was taken to the marine police.
He said, "We did not have the details of the victim before we gave the body to the marine police. They will carry out an investigation on his identity."
The Lagos Police Public Relations Officer, Benjamin Hundeyin, could not be reached for a reaction as calls made to his telephone were not responded to. A text message sent to him had yet to be replied to as of the time this report was filed.