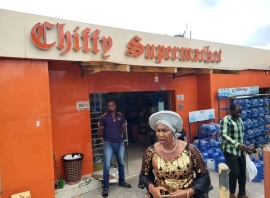 General News
Lagos shuts supermarket over alleged sale of expired products
CITIZENS COMPASS – THE Lagos State Consumer Protection Agency (LASCOPA) on has shut down Chiffy Supermarket, located at No 3, Oduduwa Crescent GRA, Ikeja, for allegedly selling expired products.
In a statement issued on Wednesday, March 29, 2023, the State agency said that its General Manager, Afolabi Solebo had earlier on Sunday, March 26, 2023, visited the supermarket following a tip-off from a Facebook post alerting the Agency and the public on the sales of the expired products at Chiffy Supermarket in GRA Ikeja.
A video had gone viral on Tuesday, March 28, 2023, which captured the General Manager's visit to the supermarket where the expired products were filmed for all to see.
The General Manager in the video made a brief remark as the owner of the supermarket was seen begging for forgiveness but the General Manager announced that adequate steps would be taken.
The LASCOPA General Manager added that the dates found on some of the products had expired since August 2022, November 2022, and January 2023 but were being sold to unsuspecting members of the public.
According to the statement issued on Wednesday, Solebo said the supermarket had been sealed on Tuesday, March 28, 2023, in line with the THEMES Agenda of Mr Governor, such an act would not be tolerated in Lagos State, while he disclosed that the matter is already before a court of competent jurisdiction for prosecution.
He reiterated LASCOPA's mandate of protecting the interest of consumers against expired, hazardous and substandard products.
LASCOPA's boss said the supermarket would remain shut and placed under surveillance, while samples of the Products confiscated would be destroyed by the relevant Government Agency.