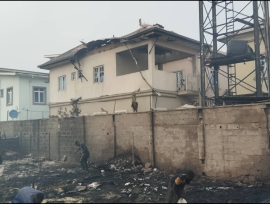 CITIZENS COMPASS – LAGOS State Environmental and Special Offences Unit (Taskforce) has served a five – day Removal Notice on squatters of illegal structures and shanties erected at Adewale Kolawole Street,Lekki Coastal Road and its environ.
The Chairman of the Agency, CSP Shola Jejeloye, advised the owners of the illegal structures, makeshift buildings and shanties to immediately remove them as well as vacate the area within the stipulated date given to them by the State Government.
A statement signed by Gbadeyan Abdulraheem, Director, Public Affairs said the removal notice was served on Thursday, April 20, 2023.
CSP Jejeloye while appealing to traders, food vendors, and other squatters living unhygienically in clusters noted that Government would enforce the five-day removal notice on 25th April, 2023.
He disclosed that the 'Removal Notice' became necessary in view of the rising incidences of pollution and most importantly a fire outbreak which occurred there 3 days ago which almost led to the destruction of buildings on the other side of the street.
The Chairman noted that the State Government is worried by the squalid environment which could also serve as hideouts for criminals who pose a security threat to residents in the area and Lagosians at large.
Jejeloye added that the State Government is committed to reducing crime to the bearest minimum through clearing out of criminal hideouts and also ensure that the environment is safe, serene and habitable for all concerned.
He stated that shanties ,illegal structures like this are known for indiscriminate disposal of waste materials which is not in tandem with the State's vision for a Mega City Status.
 He warned the owners of abandoned trucks and vehicles, shanties and kiosks to remove them from the area before the expiration of the deadline, adding that this won't be the first Notice of Removal being served on the occupiers. 
"The Lagos State's zero tolerance for environmental abuse, illegal and indiscriminate dumping of refuse and defacing the environment is going to be followed to the letter and we will make sure our objective here is achieved" Jejeloye stated.
I can assure you that Government would enforce this notice come ñext week Tuesday. "