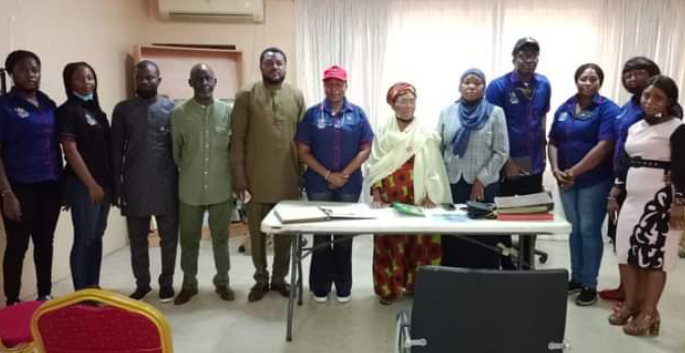 General News
Lagos to construct monument in honour of Lateef Jakande
... as officials meet family 
THE Ministry of Tourism, Arts and Culture has commenced the process of immortalising the first Civilian Governor of Lagos State, Late Alhaji Lateef Kayode Jakande, with the construction of a monument in memory of the late grassroots politician. He died on February 11, 2021,
As part of the preliminary steps to accomplish the project, officials of the Ministry led by the Permanent Secretary, Princess Adenike Adedoyin-Ajayi and the Director of Monument Management Department, Mr. Olatunde Lawal, recently visited the Jakande family to seek their buy-in ahead of the commencement of the initiative.
Addressing representatives of the family, comprising Alhaja Abimbola Jakande and some of her children including Mr. Seyi Jakande, the Permanent Secretary explained that the proposed monument was one of a series of plans conceived by the State Government to immortalise the late political icon for the exemplary life he lived.
She said: "We are here to formally inform the family that Governor Sanwo-Olu has approved the erection of a monument of Baba Jakande to immortalise him and to keep his memory alive for everyone, including those yet unborn, so that they recognise and appreciate Baba for his landmark achievements in Lagos State".
According to her, the gesture was not just for historical purposes but for educative and enlightenment as well.
Speaking further, the Permanent Secretary said: "Baba's name is already immortalised, because the history of Lagos can't be told without talking about Alhaji Jakande but with this gesture, we want generations yet unborn to also know him and the life he lived while on earth such that the younger generation can draw inspiration from him as they aspire to be leaders in their respective fields as well".
She also disclosed that the statue will be erected at Sura Market within Ikoyi Obalende LCDA for visibility to all and sundry, stressing that having an image of Baba Jakande would keep his image etched in the memory of residents and tourists alike.
The Permanent Secretary introduced Mr. Kenny Adamson, the sculptor, to family members and gave an assurance that the monument will be a replica of the late political sage.
Responding on behalf of the family, Dr. (Mrs.) Lanre Adeboye thanked Governor Babajide Sanwo-Olu for recognising the contributions of her late father and for considering it necessary to keep his legacies and memories alive by approving the erection of the iconic monument.
She stated that the State has been very supportive to the family since the demise of her father, adding that the proposed memorial is evidence that Governor Sanwo-Olu has the love of the deceased at heart, saying "The entire family will forever remain grateful to him and Lagosians".
Dr. Adeboye promised that the family will support the sculptor until the project is completed and commissioned.
Photo caption:  Officials of the Ministry of Tourism, Arts and Culture and the family members of late Alhaji Lateef Kayode Jakande during the visit.