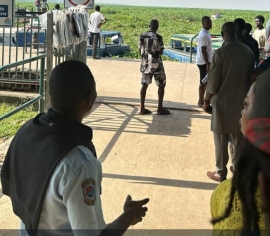 Community
LASWA announces temporary closure of Ipakodo Ferry Terminal 
... begins clearing of water hyacinth
CITIZENS COMPASS —Lagos State Waterways Authority (LASWA), on Friday, November 10, 2023, announced the temporary closure of the Ipakodo Ferry Terminal. 
The Authority disclosed this on its media platform on Friday night, in a statement. 
According to LASWA, "Due to the influx of water hyacinth obstructing smooth navigation of ferries along the Ipakodo Ferry Terminal, we hereby notify the general public that the ferry operations at the Ikorodu Terminal are temporarily suspended until further notice.
" We appreciate your cooperation and understanding during this temporary closure. Passengers and Operstors are advised not to attempt access or utilize the waterways through the Ikorodu Terminal during this period for their safety. LASWA will immediately be working with EQUUS to continue to look into how to get rid of the water hyacinth along the Ikorodu Terminal. 
"We have recently opened the Ibeshe Terminal and also just co-operated with the Nigerian Navy and Association of Boat Operators Ikorodu Division to temporarily utilize the Majidun Jetty. The Ibeshe Terminal and Majidun Jetty are open for use as alternatives during this period. 
We also intend to open another Jetty shortly in the Ikorodu axis before the end of the Year. 
"Once more Thank you for your understanding and cooperation as we continue to work together to build safe, clean and prosperous inland waterways."
The Agency said it haa begun clearing of water hyacinth on its waterways..