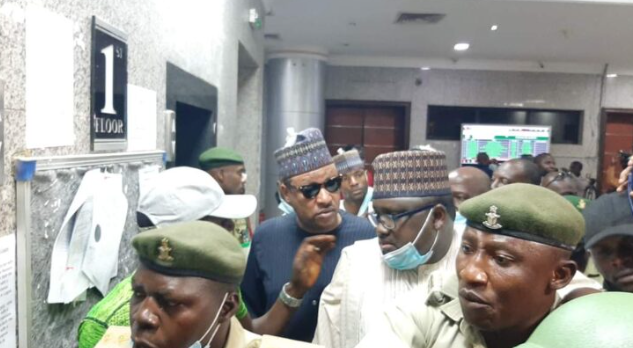 A MILD drama ensued, on Tuesday, when a Federal High Court sitting in Abuja convicted and sentenced Abdulrasheed Maina, the former chairman of the defunct Pension Reform Task Team, PRTT, to eight years imprisonment over money laundering.
The court, in the judgement delivered by Justice Okon Abang, found Maina guilty on all the 12-count charge the Economic and Financial Crimes Commission, EFCC, preferred against him and his company, Common Input Property and Investment Limited.
Justice Abang held that the sentence would run concurrently, with effect from October 25, 2019, which was the day the Defendants were arraigned.
But before the sentence was handed down, Mr Maina was given the opportunity to articulate his plea for mercy.
My Lord, I want to apologise for anything that I may have done.
the convict said.
Mr Maina, who walked into the courtroom, aided by prison officials, said: "I also want to inform My Lord that I have a tumour which needs to be operated on urgently."
Flanked on both sides by armed prison personnel who shielded him from the horde of cameras that were stationed outside the courtroom, Mr Maina was seen acknowledging cheers from his friends and associates as he walked into a waiting van after he was sentenced.
Maina's lawyer, Olusegun Jolawo, a Senior Advocate of Nigeria (SAN), also urged the judge to give the convict a "second chance."
Mr Jolawo premised his plea for clemency on the grounds that his client was battling with ill-health, despite being the "breadwinner of his immediate and extended family."
Admitting that Mr Maina had made some "bad decisions" including jumping bail twice, the lawyer said his client was remorseful.
"With all humility, we urge the court to impose the minimum possible punishment," Mr Jolawo pleaded.
Justice Abang also ordered Maina and his firm to forfeit about N2.1 billion traced to their bank accounts, as well as $223, 396, 30, to the Federal Government, after which he directed that the company should be wound up.
The court held that the forfeited funds should be paid to the Federal Government within 90 days.
Besides, it ordered the forfeiture of Maina's two choice properties at Lifecamp and Jabi districts of Abuja, to the government, likewise the auction of a bullet proof car and a BMW 5 series exotic car that was found in premises of the convict.
Justice Abang stressed that though the law made provision for a maximum sentence of 14 years for the offence that was committed by the defendants, he said he was moved by Maina's plea for mercy.