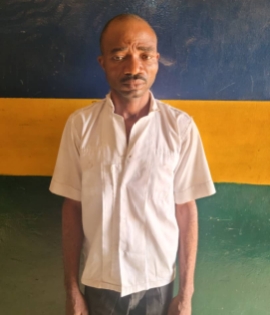 Community
Crime
General News
Man impregnates 19 years old daughter, blames witches, wizards
... threatens to kill her if she tells anybody
CITIZENS COMPASS– A 43-year-old man, resident of Ogun State, Abiodun Oladapo, has allegedly impregnated his 19 years old daughter blaming his action on witches and wizards.
He is currently being interrogated by the police in Mowe division, following his arrest on Friday,.
The 19 years old girl is said to be five months pregnant, courtesy of her biological father.
The bubble was said to have burst when a young boy, Michael Idowu, was wrongly a cussed to have impregnated the girl.
It was learnt that the boy's mother who was angered by the developed reported the matter at Mowe division to assist her in unraveling it.
Spokesperson, Ogun State Police Command, Abimbola Oyeyemi, who disclosed this to journalists said the arrest followed a complaint lodged at the Mowe police division by one Oluwatoyin Idowu, who said her son Michael Idowu, had been wrongly accused as the one who impregnated the said 19-year-old girl.
The woman said she questioned her son and discovered the victim was not telling the truth.
According to Oyeyemi, the police had, upon the report, invited the five-month old pregnant girl, adding that she confided in the police that "though Michael Idowu slept with her in December, 2022, it was her father, Abiodun Oladapo, who is responsible for her pregnancy."
According to Oyeyemi, the teenage girl stated that
her father had been sleeping with her since February 2022 with threat to kill her if she informed anybody about it."
She admitted that it was her father who told her to lie against Michael Idowu as the one responsible for the unborn baby.
The Divisional Police Officer (DPO) of Mowe division, SP Folake Afeniforo, had detailed his detectives to arrest the "randy father".
On interrogation, the suspect confessed to the crime but blamed it on the devil,"
Oyeyemi said.
Oyeyemi added that the suspect, who had long separated from the victim's mother, took custody of the girl when her mother remarried, and they have been living together since then.
Meanwhile, the Commissioner of Police in Ogun, Frank Mba, had directed that the suspect be transferred to the State police headquarters for further investigation at the CIID.