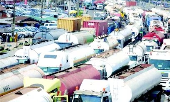 CITIZENS COMPASS– A road user, simply identified as Tunde Yaya has narrated how he escaped a robbery attack on Apapa/Oshodi Expressway.
Tunde said this occured on Wednesday, October 19, 2022, along Mile 2-Second Rainbow axis.
The road user who took to the social media to narrate this ughly experience said, "It's no news that Mile 2 area is known for traffic robbery both day and night then coupled with the ongoing construction of Mile 2 Oshodi Express Road,it has aided the traffic robbery without security personnels on ground to protect motorists.
"At about 12pm today being Wednesday 19th October, 2022 there were different set of boys at Mile 2 bridge and before Second Rainbow inward Oshodi.
"The traffic on this route is terrible. As we were approaching Second Rainbow,the boys about 7 in number holding sticks and irons descended on a car Infront of us but on the left and as soon as they sighted my car about 3 of them rushed to me trying to break the side mirror and at same time hitting the side glass seriously for me to wind down.
"They were shouting they need money, money, money but I kept calm not looking at their faces.
"I tried as much as possible not to drive close to the vehicle Infront of me and looking for an opening to my right into any of the companies along the road.
I was fortunate to see an entry into a company and sighting their security personnels at the gate I quickly diverted with speed into the entry and blew my horn to call the attention of the security.
"The boys went back and I waited for few minutes before driving back to the road.
"Let it be noted that no security personnels (RRS, Lagos State Task force and Police) were sighted from Mile 2 to Cele Bus Stop in the traffic to protect motorists."