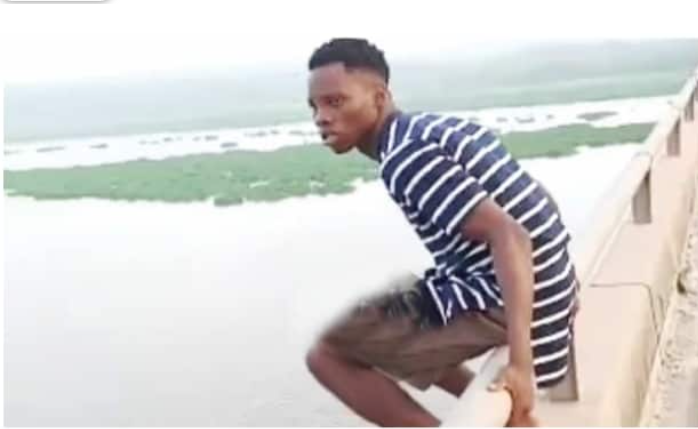 THE body of a 21 years old man, Lekan Odunare, who reportedly  jumped into a lagoon in Epe area of Lagos has been recovered.
The Ordinary National Diploma (OND),  holder, was said to have jumped into the Lagoon on Tuesday but body body was recovered by local divers on Thursday.
A grieving family member of the victim who spoke on condition of anonymity confirmed the development when he spoke to newsmen.
Recall that Odunare was captured in a viral video on social media sitting on the rails of a bridge before plunging into the waters.
Before he dived in, a man filming the scene was heard querying his intention.
Odunare, who looked forlorn, did not respond to any of the questions before jumping into the Lagoon.
Many social media users, however, wondered why the man behind the camera made no effort to save him.
It was learnt that Olalekan, who left a one-year-old baby behind, actually gave a clue of the mission he was embarking on when he left the house on the fateful day.
He was said to have told his father to pray for him.
However, the Spokesperson, Lagos state Police Command, CSP Adekunle Ajisebutu, Lagos State Emergency Management Agency and General Manager of the Lagos State Waterways Authority, Oluwadamilola Emmanuel could not confirm the incident saying they were yet to receive an alert to that effect.